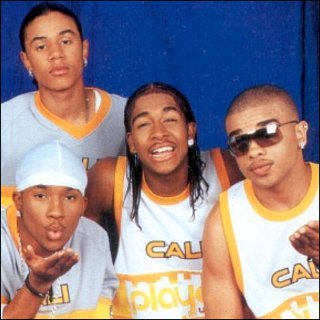 Profile
---
Famous as :
R&B boy band

Birth Date :
2001

Birth Place :
Los Angeles, USA

Claim to fame :
Single "Uh Huh" from album "B2K" (2002)


Biography
---
by AceShowbiz.com
---
Despite the members' young age when the band was formed in 2001, B2K had encountered success and fame in such a short time. With their extraordinary skills in singing, dancing, rapping, and songwriting, the group did not find any difficulties to rise as one of the most popular American R&B boy bands. Stood for boys of the new millennium, the band was able to create spirited, spunky, soulful tunes that could be enjoyed universally. "We want to be the kind of group the whole family can listen to and no one has to tell the younger kids to get out of the room," Raz-B, one of B2K's members had once said. "We love school too, and that comes across in our lyrics as a positive message." Although the existence of the band sadly did not last long, its glory undoubtedly will be echoed through the hit songs they had brilliantly produced.

Except for De'mario Monte Thornton or Raz-B (born on June 13, 1985) who came from Cleveland, Ohio, B2K consisted of African-American young boys of Los Angeles-born, namely Omari Ishmael Grandbery or Omarion (born on November 12, 1984), Druex Pierre Fredericks or Lil' Fizz (born November 26, 1985), and Jarell Damonte Houston or J-Boog (born on August 11, 1985). These four aspiring adolescents joined a talent showcase held by Epic Records in Los Angeles and successfully made their way to impress the label's executives. Managed by Chris Stokes, the band started to draw public attention in 2001 through their single entitled 'Uh Huh' while also being an opening act for Bow Wow's U.S. tour.

Beyond their expectation, 'Uh Huh' managed to stay on the top position of Billboard Hot 100 Singles Sales Chart for 10 weeks by January 2002. With this wonderful attainment, the band confidently launched their self-titled album in March. This initial work surprisingly became an instant hit, soaring to reach the second rank on The Billboard 200. In the meantime, one out of its 17 tracks, 'Gots ta Be', satisfyingly entered the top 40 of The Billboard Hot 100. Ultimately certified Gold, the album unquestionably had led the group to achieve popularity as well as commercial success. To everyone's surprise, they quickly came up with their second album entitled 'Pandemonium!' at the end of the year.
Sitting at number ten on The Billboard 200, 'Pandemonium' benefited from its track called 'Bump, Bump, Bump' as the tune turned out to be a massive hit throughout the country. Already the number one song on The Billboard Hot 100, the tune boosted the sale of their sophomore album so that it was granted Platinum status by March 2003. Another track called 'Girlfriend' also became a huge hit, leaping to the 30th rank of the same chart in the following month. By this time, B2K had become extremely busy that they went around U.S. to hold the third part of their Scream Tour. Still in the same year, they ventured into film production, starring alongside cMarques ...