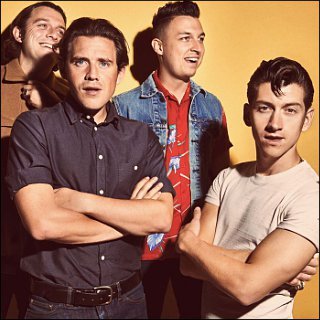 Biography
---
The indie rock band,
Arctic Monkeys
had scored a chain of achievements early in their career. Their two singles 'I Bet You Look Good On The Dancefloor' and 'When The Sun Goes Down' quickly soared to the top position of UK singles chart. As a result, their first album '
Whatever People Say I Am, That's What I Am Not
' was immediately sold 120,000 copies during the first week after its U.K. release on January 23, 2006, greasing the band's path to a U.S. release on February 21, 2006. The album later on gained the Best Album in the 2007 NME Awards. Following the worldwide circulation of their album, the scheduled World Tour was sold out in US alone, entitling them to serve the appetizer in 'Saturday Night Life' on March 11, 2006 and to proceed their music performances until July 8, 2006 in Kildare, Ireland. The British band, moreover, also stole the limelight at the 2006 ShockWaves NME Awards, taking 3 winnings out of 4 nominations, mainly for Best New Band, Best British Band and Best Track awards for 'I Bet You Look Good On The Dancefloor'. What's more, their track 'When The Sun Goes Down' had somehow become so inspiring for a British producer Paul Fraser who later on produced two short films in the DVD titled 'Scummy Man' which also included the musical promo of 'When The Sun Goes Down'. The DVD was released on April 10, 2006 and won the Best Music DVD in the 2007 NME Awards.
Began their friendship in Barnsley College, Alex Turner and Matt Helders were at the very start already in the same music direction. After getting musical instruments as their Christmas gifts in 2002, Turner who took the lead vocal and guitar and Helders who preferred the drum officially formed the band in Sheffield, England the next year, recruiting two other members, Jamie Cook to handle the guitar and Andy Nicholson in the bass. Kept practicing and playing along the tunes of
The White Stripes
and The Vines, they earned their first gig on June 13, 2003 at The Grapes, a pub in the middle of Sheffield. Employing a unique method to make themselves a new sensation, they would self-record demos and made them available on the Internet. By late 2004, their downloadable music attracted the attention of BBC Radio 1 and some UK tabloids, thus began to lure fans at the same time.