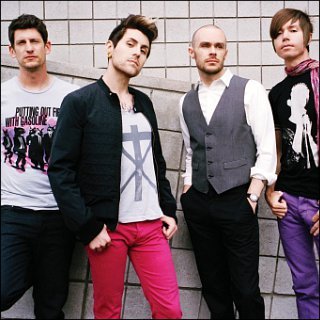 Profile
---
Famous as :
Rock band
Birth Date :
1991
Birth Place :
Ukiah, California, USA
Claim to fame :
Album "
The Art of Drowning
" (2000)

Has recorded numerous covers of other band's song which included Nine Inch Nails' "Head Like A Hole", Guns N' Roses' "My Michelle", Duran Duran's "Rio", Misfits' "Halloween", Filth's "Today's Lesson", and Morissey's "Jack the Ripper."
Album "Sing the Sorrow" contained an untitled poem that ran from 4:48 until 8:42 after the end of single "...but home is nowhere."
Their song of "Rabbits are Roadkill On Route 37" initially was intended to be included in album "Sing the Sorrow", but later was dropped shortly before the LP's release.
LP "The Art of Drowning" actually has a special track entitled "Dream of Waking" which was only available on the 12" vinyl version.
The CD case of their fourth album, "Black Sails in the Sunset", had a hidden message in its inner edge written "Beyond and To All Time I Stand" which turned out to be a lyric from hidden track "Midnight Sun."
Their "Dork" EP cover featured the band's drummer, Adam Carson, as a high school student.
Album "Very Proud of Ya" contained a hidden instrumental track entitled "No Dave Party" that can be heard by rewinding single "He Who Laughs Last" past the beginning of the song.
Has a devoted fan base named Despair Faction.