The 'Famous in Love' star went topless and showed off a serious sideboob while unveiling the fresh, colorful ink located on her shoulder which read, 'I Love You.'
Bella Thorne
has just added new inks to her collection. On Friday, November 24, the red-head beauty gave her Instagram followers a raunchy first look at her new tats.
In the photo she shared on her Instagram account, the 20-year-old actress ditched her top while back-facing the camera. She strategically put her arm to cover her chest, though it didn't stop her from showing off a serious sideboob. The "
Famous in Love
" star pouted her lips while unveiling the fresh ink located on her shoulder. It read, "I Love You," in colorful ink.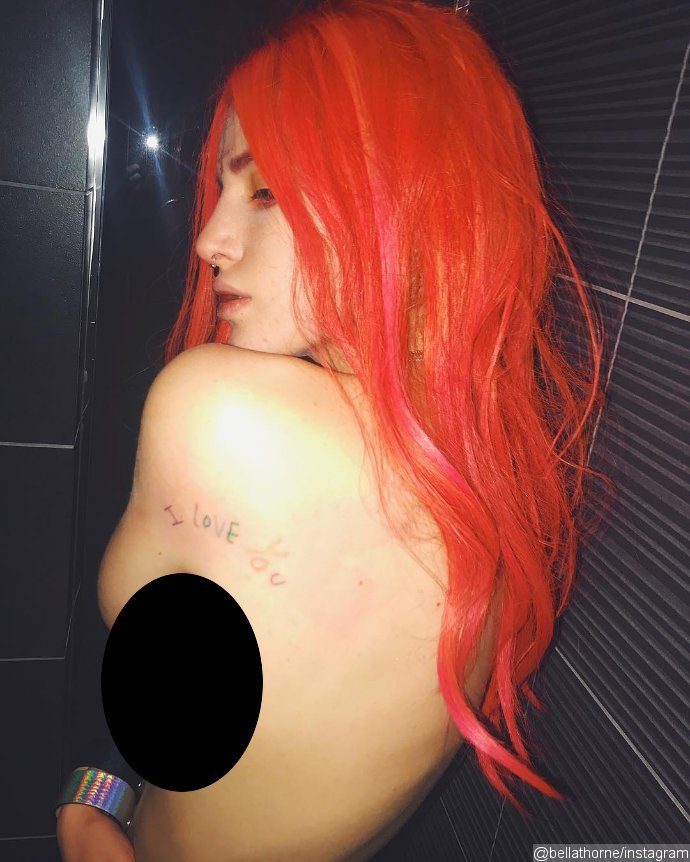 She playfully captioned the racy snap, "New lil tat. Guess what my other tat says it's on my hip;)"
Not letting her 16.7 million followers wonder too long, the star took to Instagram Stories to solve the mystery. "Bite Me," the other ink said. The new tattoo had the letters "T" and "M" written upside down.
"Me morda" - Bella Thorne via Instagram Stories pic.twitter.com/ghYj3dIwyd

— Bella Thorne Brasil (@bethornebr) November 24, 2017
Shortly after, Bella posted a second photo of her new shoulder tattoo on Twitter. Unlike the one she shared on Instagram, the new snap saw Bella looking directly at the camera, unveiling a mysterious red mark on her forehead. "If you are wondering what's on my forehead it's an upside down cross written in cranberry juice," she explained.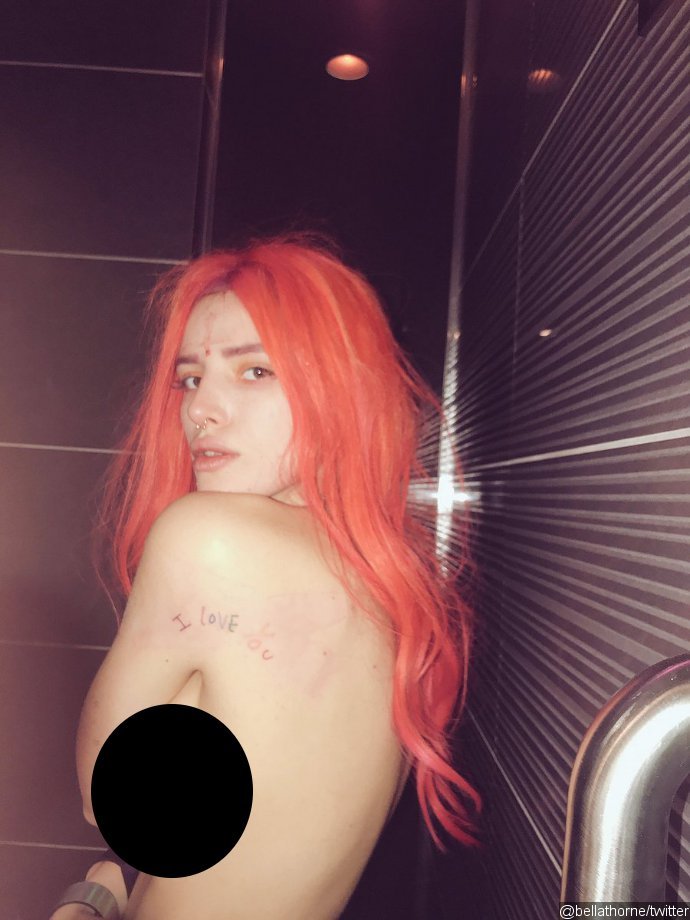 "
The Babysitter
" actress previously took to her Instagram and Twitter accounts to
mourn
the death of her ex
Lil Peep
. "Peep you deserved more out of life. Life didn't do your greatness justice," she tweeted. Taking to Instagram Stories, Bella said in a heartbreaking video, "Anybody out there who is a Lil Peep fan, you guys know how talented he was.ou guys know how great he was. Well, he was even more f***ing great as a person."
The rapper was found dead at his tour bus when he was about to perform at a nightclub in Tuscon on Wednesday, November 15. Police immediately investigated the cause of his death, and it has been found out that Peep died of a suspected Xanax overdose.