New photos of the upcoming spring premiere of FOX's series see Edward Nygma suiting up as one the greatest foes of Batman, The Riddler, in the iconic green outfit.
"
Gotham
" season 3 will definitely show how Edward Nygma (Michael Smith) will be transforming into the villainous The Riddler when the show returns for a spring premiere. For fans to get a better idea, FOX has released some new photos featuring Edward donning The Riddler's iconic suit.
The first photo for upcoming episode titled "Heroes Rise: How The Riddler Got His Name" sees Edward wearing The Riddler's classic green suit, while holding a gun in one of his hands. It remains to be seen whom he aims the gun at. Meanwhile, another photo features The Riddler looking livid. He leaves his seat and furiously pointing his finger at unknown character.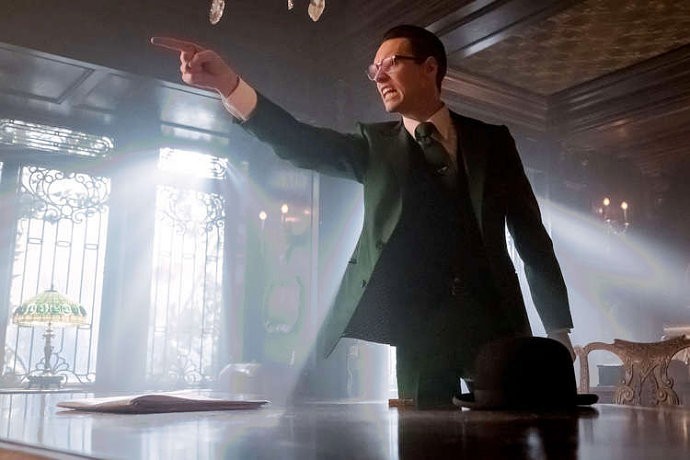 The official synopsis for the episode 15 reads, "Nygma convinces himself that he doesn't need Penguin to succeed and begins to introduce himself to Gotham as The Riddler. Bullock and Lucius Fox get caught up in Nygma's mind games, while Gordon learns troubling news about his father's death. Meanwhile, the Court of the Owls reveals its next move."
"Gotham" stars
Benjamin McKenzie
as Detective James Gordon, Donal Logue as Harvey Bullock,
David Mazouz
as Bruce Wayne,
Morena Baccarin
as Leslie Thompkins, Sean Pertwee as Alfred,
Robin Lord Taylor
as Oswald Cobblepot/The Penguin and Erin Richards as Barbara Kean.
Also starring on the series are
Camren Bicondova
as Selina Kyle/the future Catwoman,
Jessica Lucas
as Tabitha Galavan, Chris Chalk as Lucius Fox, Drew Powell as Butch Gilzean, Maggie Geha as the future Poison Ivy,
Michael Chiklis
as Detective Nathaniel Barnes and Benedict Samuel as Mad Hatter.
"Gotham" season 3 is set to return with new episodes on Monday, April 24 on FOX.