From action superhero movies to highly-anticipated dramas, all are set to be unleashed for your viewing pleasure.
What are you planning to do this summer? Going for a road trip, sunbathing on the beach or working part time? Whatever you do in the day, make sure you spare your time in the night to go to cinemas because a bunch of big movies are set to be unleashed in this coming season. From new installments of favorite superhero franchises to reboot and follow-ups to popular movies that took a long time before they came to fruition, all are coming within the next few months.
Are you scratching your head now trying to decide which movies you should watch? No need to worry because AceShowbiz has compiled in
Summer Movie Guide 2016
some selected titles that you may not want to miss. These films are put into groups based on their genres to make it easier for you to choose based on your preference and whom you go with.
In this
first part
, we put the highlights on action and drama movies alike that are suitable for those who enjoy theater bangers and for romantic souls, respectively. A plethora of potential tentpoles and comic book adaptations that bring familiar characters are among the options.
ACTION, SCI-FI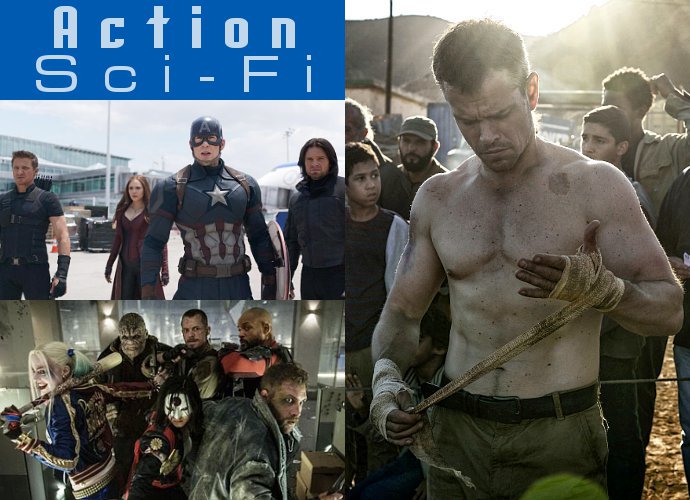 One of the most awaited movies by comic book fans,
"Captain America: Civil War"
(May 6) once again assembles your beloved superheroes, though this time they are on different sides in the battle. But if you're looking for a different kind of an ensemble pic and comic book adaptation,
"Suicide Squad"
(August 5) is the best answer. While Marvel films are known for their light mood, the new film from Warner Bros. and DC Comics looks edgier by giving the spotlight to some of renowned supervillains like Joker.
More familiar characters return in
"X-Men: Apocalypse"
(May 27) and
"Star Trek Beyond"
(July 22). Products from successful franchises and trusted filmmakers, they guarantee your satisfaction. On the other hand,
"Warcraft"
(June 10) based on the popular game is bringing the imaginary world to life with spectacular visuals.
Matt Damon
's
"Jason Bourne"
(July 29) is also back to greet fans who missed him since he was last seen in 2007's "
The Bourne Ultimatum
". This fifth film will answer such questions as "What has he been up to in the past few years?" and "What gets him going again?"
Other recommended action and sci-fi movies:
"
Code of Honor
" (May 6)
"
High-Rise
" (May 13)
"
I Am Wrath
" (May 13)
"
The Trust
" (May 13)
"
Teenage Mutant Ninja Turtles: Out of the Shadows
" (June 3)
"
Independence Day: Resurgence
" (June 24)
"
Our Kind of Traitor
" (July 1)
"
Mechanic: Resurrection
" (August 26)
DRAMA, FANTASY, ADVENTURE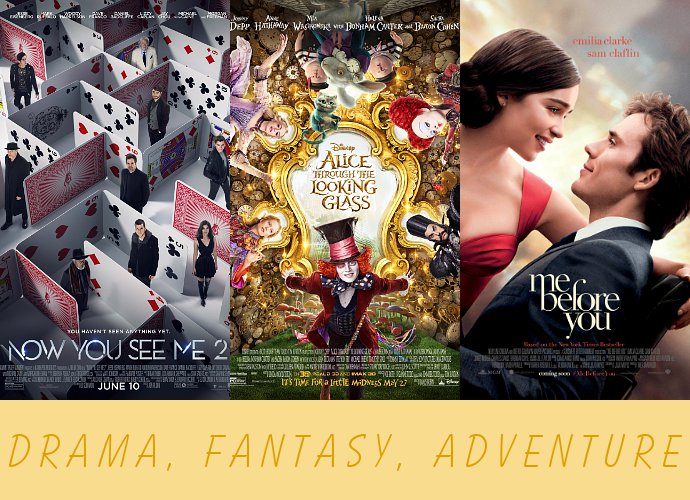 Drama and fantasy movies shouldn't be left out of your list of films-to-watch since the highly anticipated sequel to 2013's "
Now You See Me
" is among them. The Four Horsemen (with
Lizzy Caplan
replacing
Isla Fisher
) are resurfacing after years in hiding. In
"Now You See Me 2"
(June 10), they must show new tricks as a tech prodigy, played by
Daniel Radcliffe
, threatens them into pulling off their most impossible heist yet.
Ready to be taken farther into a fantasy world?
"Alice Through the Looking Glass"
(May 27) presents another story of Alice's adventure in the whimsical world of Wonderland. Facing against Time, she must save her friend the Mad Hatter while also facing a major obstacle in the form of what else if not The Red Queen. Talking about time, we can't forget to mention
"Ben-Hur"
(August 19) which takes us back to the time when Roman Empire ruled. A biblical drama, it sure has a lesson or two that we can learn about loyalty and strong determination while we enjoy the performance of top-notch actors such as
Jack Huston
and
Morgan Freeman
.
For romantic souls and lovey-dovey couples,
"The Legend of Tarzan"
(July 1) and
"Me Before You"
(June 3) could be your best answers. Based on the famous tale, the former mixes adventure and romance between the titular character (
Alexander Skarsgard
) and Jane (
Margot Robbie
). Meanwhile, "Me Before You" which is adapted from a novel by Jojo Moyes is a complete tearjerker with heartbreakingly beautiful love story of a disabled wealthy man (
Sam Claflin
) and an unambitious, funny woman (
Emilia Clarke
).
Other recommended drama, fantasy and adventure movies:
"
A Bigger Splash
" (May 4)
"
Mothers and Daughters
" (May 6)
"
Pele
" (May 6)
"
The Lobster
" (May 13)
"
Approaching the Unknown
" (June 3)
"
Diary of a Chambermaid
" (June 10)
"
Genius
" (June 10)
"
Free State of Jones
" (June 24)
"
Captain Fantastic
" (July 8)
"
The Infiltrator
" (July 15)
"
Tulip Fever
" (July 15)
"
The Founder
" (August 5)
"
Cafe Society
" (August 12)
"
Florence Foster Jenkins
" (August 12)
"
The Space Between Us
" (August 19)
"
The Hollars
" (August 26)
"
Southside with You
" (August 26)
Go to Part 2 »