About This Video
---
A clip/trailer of The Undefeated
Tags
:
The Undefeated
Type
: Movie Trailer
Views
: 766
This Movie Info
---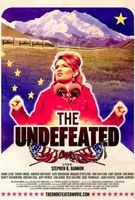 The Undefeated
Release Date :
July 15, 2011 Limited
Studio :
ARC Entertainment
Director :
Stephen K. Bannon
Starring :
Mark Levin, Tammy Bruce, Andrew Breitbart, Kate Obenshain
An epic two-hour feature documentary film, "The Undefeated" chronicles the rise from obscurity of one of America's new generation of leaders: Governor Sarah Palin of Alaska.
Starting during the Exxon Valdez disaster of 1989 when Palin worked a commercial fishing boat she owned with her blue-collar husband, the film shows the struggles, the victories and the setbacks during a controversial career.
Starring the leading conservative commentators Mark Levin, Tammy Bruce, Andrew Breitbart; conservative activists Kate Obenshain, Sonnie Johnson, Jamie Radtke; and Alaskan civil servants, political leaders and advisors from the dramatic days of change in mid-decade, "The Undefeated" provides a fresh and revealing look at Governor Sarah Palin.