About This Video
---
This Movie Info
---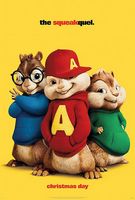 In the "Squeakquel," pop sensations Alvin, Simon and Theodore end up in the care of Dave Seville's twenty-something nephew Toby (Zachary Levi). The boys must put aside music superstardom to return to school, and are tasked with saving the school's music program by winning the $25,000 prize in a battle of the bands. But the Chipmunks unexpectedly meet their match in three singing chipmunks known as "The Chipettes" - Brittany, Eleanor and Jeanette. Romantic and musical sparks are ignited when the Chipmunks and Chipettes square off.
Comments
---

can wait to hear the voice of Jojo as a chipmunk.. hahahaha.. must be funny
posted by

Silver

on Dec 08, 2009

CANT WAIT TO SEE THIS MOVIE:)
posted by

unknown

on Nov 21, 2009

owsssomeeeee wow the movies ever....
posted by

alvin and the chipmu

on Nov 09, 2009

I think the "squeakquel" is going to be better than the first movie xD
posted by

shumpty

on Oct 11, 2009

Cool! I like the new tralier where the accident happens and the boys goes to school! Plus, I really like the last scene with the Chipettes singing! I think this movie will rock!
posted by

angel7170

on Oct 02, 2009