About This Video
---
This Movie Info
---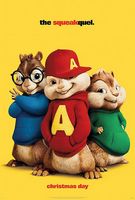 In the "Squeakquel," pop sensations Alvin, Simon and Theodore end up in the care of Dave Seville's twenty-something nephew Toby (Zachary Levi). The boys must put aside music superstardom to return to school, and are tasked with saving the school's music program by winning the $25,000 prize in a battle of the bands. But the Chipmunks unexpectedly meet their match in three singing chipmunks known as "The Chipettes" - Brittany, Eleanor and Jeanette. Romantic and musical sparks are ignited when the Chipmunks and Chipettes square off.
Comments
---

heygirl boy
posted by

kimeko

on May 10, 2010

good job keep up the good work love your shows love avery phone number 9037694316
posted by

10000

on Apr 14, 2010

cok datlular super sarkı soyluyorlar kızlarda hotn cold da cok ıyıler SMİLE
posted by

alara

on Apr 02, 2010
is there film 3 of ıt I love ıt very very very very very very very very very very much
posted by

sophie

on Apr 02, 2010

ıts awsome and they are very sweet
posted by

selens

on Apr 02, 2010
alvin and the chipmunksi went to see your moveies
posted by

dashuna powell

on Jan 08, 2010

they fall in love
posted by

z

on Jan 06, 2010
jan shu shum te mir
posted by

arta

on Jan 06, 2010

Alvin is a chipmunks and they girls chipmunks.
posted by

gabby

on Jan 02, 2010

i love it it's so funny
posted by

youtube

on Dec 27, 2009

yOYWkc
posted by

Pmgatmls

on Jul 16, 2009

awesome
posted by

mary33

on Jul 10, 2009

OMG, I have GOT to see this! When I saw the trailer at the movie theater, I freaked!!!!! Totally awesome, can't wait to see it.
posted by

Bailey

on Jul 08, 2009

I wish i could see the movie before Christmas!
posted by

Tatertot887

on Jul 06, 2009

i wish i could see the whole movie.
posted by

chipmunkluvver

on Jul 04, 2009

I LOVED IT!i wish i could see more...it looks so cute and romantic.i wounder if any of them had an erection.haha
posted by

alvin and the chipmu

on Jul 04, 2009

iluv alvin simon and theadore
posted by

babyja33y

on Jul 01, 2009

I think its gonna be great and its gonna be cool!The chipmunks tho feel like "Chipmunks out of water"
posted by

BoltAlvinColeMiley2

on Jul 01, 2009