About This Video
---
This Movie Info
---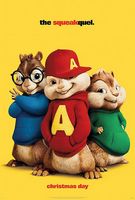 In the "Squeakquel," pop sensations Alvin, Simon and Theodore end up in the care of Dave Seville's twenty-something nephew Toby (Zachary Levi). The boys must put aside music superstardom to return to school, and are tasked with saving the school's music program by winning the $25,000 prize in a battle of the bands. But the Chipmunks unexpectedly meet their match in three singing chipmunks known as "The Chipettes" - Brittany, Eleanor and Jeanette. Romantic and musical sparks are ignited when the Chipmunks and Chipettes square off.
Comments
---

I wish they were real and mine. I even LOVE the costumes!
posted by

Chipette No.1 fan

on May 27, 2010
i love Alvin i have to meet him OMG
posted by

falicia

on May 20, 2010

So nice i loved it i also like there outfits!
posted by

cutie

on May 17, 2010

so cuuuute!!but does it really have to Single ladies?!lol
posted by

joi

on May 07, 2010

god love this but of all song has to be Single Ladies lol sweet song
posted by

dave

on Apr 19, 2010

i like that video and da chipmunks go hard
posted by

baddchick

on Mar 19, 2010

amo esse filmi tenho ate o dvd do alvin e os esquilos 1 2
posted by

brenda

on Feb 20, 2010
super tare
posted by

erela

on Feb 15, 2010
alvin i am a huge fan ;-) theador i am a huge fan p.s you are soooooooooooooooooooo cute ;-) and simon you are sooooooooooooooooo smart and funny ;-)
posted by

karina

on Feb 14, 2010

Wow ! Girl chipmunks !!!!
posted by

lol smiley face

on Jan 22, 2010

A-M-A-Z-I-N-G <3
posted by

cutie

on Jan 16, 2010
i love you p. a.
posted by

keisha peacock

on Jan 12, 2010

cute idnk they should do a movie of the chipettes singing like chipette idol!
posted by

chipettegirl

on Jan 09, 2010

I Absolutly Love this movie! Its a new turn in the time, I can't wait to see if theres going to be a third one. It's my new favorite.
posted by

Brooke

on Jan 03, 2010

good great gggggggggg
posted by

ccccccccciiiiiiiiiie

on Dec 25, 2009
i love you from
posted by

keisha peacock

on Dec 22, 2009

Is it going to come out on DVD on the 23rd or i Theaters????? HELP!!!!!!!! :-)
posted by

hi

on Dec 21, 2009
play it
posted by

vincent.1

on Dec 13, 2009