About This Video
---

This Movie Info
---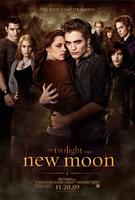 In the second installment of Stephenie Meyer's phenomenally successful "Twilight" series, the romance between mortal and vampire soars to a new level as Bella Swan (Kristen Stewart) delves deeper into the mysteries of the supernatural world she yearns to become part of-only to find herself in greater peril than ever before.
Following Bella's ill-fated 18th birthday party, Edward Cullen (Robert Pattinson) and his family abandon the town of Forks, Washington, in an effort to protect her from the dangers inherent in their world. As the heartbroken Bella sleepwalks through her senior year of high school, numb and alone, she discovers Edward's image comes to her whenever she puts herself in jeopardy. Her desire to be with him at any cost leads her to take greater and greater risks.
With the help of her childhood friend Jacob Black (Taylor Lautner), Bella refurbishes an old motorbike to carry her on her adventures. Bella's frozen heart is gradually thawed by her budding relationship with Jacob, a member of the mysterious Quileute tribe, who has a supernatural secret of his own.
When a chance encounter brings Bella face to face with a former nemesis, only the intervention of a pack of supernaturally large wolves saves her from a grisly fate, and the encounter makes it frighteningly clear that Bella is still in grave danger. In a race against the clock, Bella learns the secret of the Quileutes and Edward's true motivation for leaving her. She also faces the prospect of a potentially deadly reunion with her beloved that is a far cry from the one she'd hoped for. With more of the passion, action and suspense that made "Twilight" a worldwide phenomenon, "The Twilight Saga's New Moon" is a spellbinding follow-up to the box office hit.
Comments
---

I think it is going to be awsome!! Hope it will be better than Twilight.
posted by

Twifan

on Aug 06, 2009

I think New Moon is going to win heaps of awards :D
posted by

Alice

on Jul 12, 2009

i love twilight i know all the movies r going to be great for sure i love uuuu edward and Kristen
posted by

Julia

on Jul 05, 2009

This is sooooooooo cool i love twilight im gnna love New Moon -- and I love everything about vampires
posted by

twilight is the best

on Jun 27, 2009

I love the actors and actresses in this film, they are all so expressive and wonderful!
posted by

crittel

on Jun 09, 2009

I luv twilight so much
posted by

twilight luvee

on Jun 07, 2009

it was very very very good. it could have done better but overall i liked it.
posted by

man-is-ha

on Jun 05, 2009

well it cant be any worse then the 1st 1 can it? oh wait..thats right...
posted by

Twi-h8r

on Jun 05, 2009

you have to see twilght to figure out what's love in u're life u r going 2 feel in lov with twilight ( i think jacob black is sooo hooott!;)
posted by

twilight is the best

on Jun 04, 2009