About This Video
---
This Movie Info
---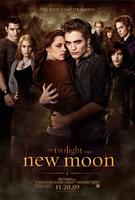 In the second installment of Stephenie Meyer's phenomenally successful "Twilight" series, the romance between mortal and vampire soars to a new level as Bella Swan (Kristen Stewart) delves deeper into the mysteries of the supernatural world she yearns to become part of-only to find herself in greater peril than ever before.
Following Bella's ill-fated 18th birthday party, Edward Cullen (Robert Pattinson) and his family abandon the town of Forks, Washington, in an effort to protect her from the dangers inherent in their world. As the heartbroken Bella sleepwalks through her senior year of high school, numb and alone, she discovers Edward's image comes to her whenever she puts herself in jeopardy. Her desire to be with him at any cost leads her to take greater and greater risks.
With the help of her childhood friend Jacob Black (Taylor Lautner), Bella refurbishes an old motorbike to carry her on her adventures. Bella's frozen heart is gradually thawed by her budding relationship with Jacob, a member of the mysterious Quileute tribe, who has a supernatural secret of his own.
When a chance encounter brings Bella face to face with a former nemesis, only the intervention of a pack of supernaturally large wolves saves her from a grisly fate, and the encounter makes it frighteningly clear that Bella is still in grave danger. In a race against the clock, Bella learns the secret of the Quileutes and Edward's true motivation for leaving her. She also faces the prospect of a potentially deadly reunion with her beloved that is a far cry from the one she'd hoped for. With more of the passion, action and suspense that made "Twilight" a worldwide phenomenon, "The Twilight Saga's New Moon" is a spellbinding follow-up to the box office hit.
Comments
---

Sooo worth watching!
posted by

raj

on Sep 19, 2009

I love Edward he is sooooo HOT!Bella and Edward make the HOTTEST EVER!!!!!!
posted by

Roba lover

on Jun 29, 2009

ohh...rob we tell to you..you are so beautiful for us...we are so excited for the twilight saga---we love yiu...you and kristen are a couple very hot...thank you for your existence
posted by

zalla £ dzina

on Jun 13, 2009

omg...i love it i tjink that movie will be the 1 of all
posted by

eli

on Jun 01, 2009

I'm so excited about the release date of Newmoon.... I cannot wait to see it i own every book and the first movie Twilight.....I think Robert is SEXY...lol I know that Newmoon along with the other following will be EXCILLENT....
posted by

Becky16

on May 22, 2009

EDWARD IS SO HOT
posted by

JESSICA CORBITT

on May 13, 2009

this movie is the best and jacob is amezing and his is so cute and edward and bella are amezing emmet too and all of the cullens family are amezing and edi is funny
posted by

sara

on May 03, 2009

Edward is the prince that women dream of! I can't see anyone playing Edward but him, Robert Pattinson. He is dreamy
posted by

j

on Apr 22, 2009

Who with ANY romance and hope in their soul NOT fall in love with the twilight saga??! Its every girl and womans dream to love and be loved so fiercely and every boy and mans hope to be able to protect the one they love with such strength and character. While I may have my own version of Edward in my own life, the twilight saga allows me to fantasize of a Edward Cullen in my dream life.....well done to the writers,actors and all those who made such a dream life possible for those of us who believed we already had it all. :)
posted by

Flash!

on Apr 22, 2009

I think that Robert is very good looking. The books are just as good. They couldn't have picked a better Edward.
posted by

Squirt

on Apr 19, 2009
i love twilight
posted by

jdk

on Apr 17, 2009