About This Video
---
This Movie Info
---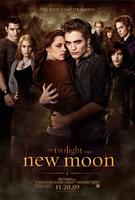 In the second installment of Stephenie Meyer's phenomenally successful "Twilight" series, the romance between mortal and vampire soars to a new level as Bella Swan (Kristen Stewart) delves deeper into the mysteries of the supernatural world she yearns to become part of-only to find herself in greater peril than ever before.
Following Bella's ill-fated 18th birthday party, Edward Cullen (Robert Pattinson) and his family abandon the town of Forks, Washington, in an effort to protect her from the dangers inherent in their world. As the heartbroken Bella sleepwalks through her senior year of high school, numb and alone, she discovers Edward's image comes to her whenever she puts herself in jeopardy. Her desire to be with him at any cost leads her to take greater and greater risks.
With the help of her childhood friend Jacob Black (Taylor Lautner), Bella refurbishes an old motorbike to carry her on her adventures. Bella's frozen heart is gradually thawed by her budding relationship with Jacob, a member of the mysterious Quileute tribe, who has a supernatural secret of his own.
When a chance encounter brings Bella face to face with a former nemesis, only the intervention of a pack of supernaturally large wolves saves her from a grisly fate, and the encounter makes it frighteningly clear that Bella is still in grave danger. In a race against the clock, Bella learns the secret of the Quileutes and Edward's true motivation for leaving her. She also faces the prospect of a potentially deadly reunion with her beloved that is a far cry from the one she'd hoped for. With more of the passion, action and suspense that made "Twilight" a worldwide phenomenon, "The Twilight Saga's New Moon" is a spellbinding follow-up to the box office hit.
Comments
---

jacob is hot edward not so hot
posted by

rachelle

on Mar 12, 2010

I'VE SEEN ONE THAT HAD MORE SEENS IN IT. I THINK THAT'S THE BEST. BELLA+EDWARD=FOREVER. BELLA+JACOB=NEVER.
posted by

MORGZY LOV TAYLOR L

on Feb 20, 2010

I LIKE THE VOLTURI. I LIKE THERE RED EYES. IM GETTING THAT COLOUR CONTACTS
posted by

MORGZY LOV TAYLOR L

on Feb 20, 2010

Yeah!!!! more twilight fans!!! AWESOME!!! I saw New Moon in theaters on November 20, I can't even begin to say how PHENOMINAL it was!!! it was just soooooooooooooooo(could go on) good!!!!! This movie is a MUST see for everyone, especially twilight lovers (like me). GO TEAM BELLA (ALL THE WAY)!!!!(oh, and team edward!)
posted by

twilightaholic

on Dec 16, 2009

excellent
posted by

nita

on Dec 08, 2009

I love the trailer, but Edward never fights with the Volturi. But, I still cannot wait to watch it.
posted by

Eclipse

on Nov 06, 2009

I'm so glad there is more rpatz/edward on the movie in the book its mostly jacob! no offence to team jacob. I want to see if they did the end bit of the book in the film where they vote 4 bella 2 become a vamp. the trailer is awesome. cant wait!
posted by

Twilight

on Nov 04, 2009

ok im to old 4 this stuff but cant help myself i need to hook up wit edwards dad, carlise will do just fine look out esme
posted by

ms black

on Oct 28, 2009

love it.....................they need to go ahaed and show the movie!!!!!!!!!!!NOW!!
posted by

nacoby

on Oct 25, 2009

I love this video
posted by

Mrs.Cullen

on Oct 24, 2009

oh my lord i cannot wait for this movie
posted by

TwilightObsessed

on Oct 24, 2009

5 stars... nuf said
posted by

Mrs. Jasper Hale

on Oct 23, 2009

Have you guys seen the new moon trailors and cast they are awsome!!!! Did you guys see the youtube pics of the baby with the cast!!!! That was like my baby cuzin i cant believe my baby cuzin got a pic wit the cast i will always treasure those pics and my babv cuzin and will one day tell her who those people where and how she was soooo lucky to get a pic wit Robert Pattinson, Nikki Reed, Kristen Stewart, and Kellan Lutz who gave her a kisss I am sooo jealouse of my baby cuzin and happy!!!!! :) hahaha my baby cuzin got to meet the twilight cast and yours didnt
posted by

TEAM EDWARD AND JACO

on Oct 21, 2009

OMG I JUST SAW THE NEW MOON TRAILOR #3 AND IT WAS AWSOME !!! I saw all three trailors and the one when bella slaps paul that was freakin awsome i cant wait till new moon comes out I got my cuzins hooked on TWILIGHT and now there all going to go see the movie wit me !!!! I love Edward and Jacob and always will
posted by

TEAM EDWARD AND JACO

on Oct 21, 2009

ok...not as good as book.
posted by

Eileen12

on Oct 20, 2009

Tickets purchased--counting down the days...
posted by

DeniseL

on Oct 19, 2009

i cannot wait for the release date of "new moon" only a few more weeks!!! the books r amazing and i hope they make every single one!!!
posted by

twilight addict

on Oct 04, 2009

this movie is awesome can't wait to watch it....i read the book and its awesome
posted by

twilighrt freack

on Oct 01, 2009

I LOVE THE TRAILER I ONLY JUST WATCHED THE FIRST MOVIE(TWILIGHT)I LOVED IT,I CAN'T WAIT TO SEE THE NEXT MOVIE(THE NEW MOON)
posted by

renee

on Sep 30, 2009

i luv this trailer taylor is so HOT cant wait to see the movie
posted by

mrs lautner

on Sep 28, 2009

I 'm dieing to she what happens with Edward and Bella. I watched MTV Muisc awards 09 and saw that Edward tries to kill himself cuz he thought Bella killed herself, I'm was about to die.
posted by

Mia Faith rules

on Sep 20, 2009

I totally have the hots for this trailer....can a trailer really be THIS good-looking!!!! HOT-HOT-HOT!!!!
posted by

Cands

on Sep 18, 2009

best, can't wait.
posted by

ilovetaylorlautner

on Sep 18, 2009

i CANT wait i NEED the video now now now now!!!!!!!
posted by

breakingdawn

on Sep 17, 2009

I can't wait for New Moon! I got my aunt and grandmother hooked on the books and Twilight. My daughters can't wait too see. It looks awesome!!
posted by

TeddyBear

on Sep 16, 2009

omg i swear me and my friends saw it on tv this morning and at school we went completely MENTAAAAL !
posted by

newmoonobsessed!

on Sep 15, 2009

I need to see the film NOW
posted by

Fran

on Sep 14, 2009

I love this trailer!! Best one yet!
posted by

theitgurl

on Sep 14, 2009