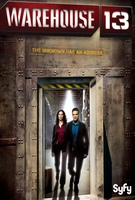 July 09, 2012 09:07:58
New promos for "
Warehouse 13
" season 4 have been released to tide fans over the upcoming return. Each of the clips highlights one member of the team and what they are good at. Pete, for example, is known for his ability to pick up both good and bad "vibes," which often save the team.
Myka, with her photographic memory, has the answer for almost everything which the other team members don't know. Computer savvy Claudia, with her fun and free personality, always keeps it real, while Artie who is the team's leader is good at distributing the job.
...