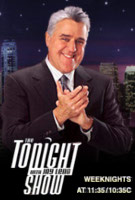 TV Info
---
Category
Talk Show
Genre
Talk-Show, Comedy
Seasons
22
Production Co.
Big Dog, Nelson Page, Nerd Corps, NBC
Distributor
NBC
Official Site
click here

Cast and Crew
---
Main Cast
Edd Hall
Kevin Eubanks
Brandon Molale
Julie Scardina
The Story
---
Jay Leno follows in the footsteps of legendary NBC late-night hosts Steve Allen, Jack Paar and Johnny Carson and is the host of the Emmy Award-winning and top-rated "The Tonight Show with Jay Leno." Beginning his 15th season in May 2006, Leno has created his own unique late-night style with a combination of humor, talk and entertainment each night at 11:35 p.m. ET - the wee hours when viewers want to wind down with a few laughs before drifting off to dreamland.
Considered by many to be a "variety" show, "The Tonight Show with Jay Leno" features a nightly monologue and news-making guests, as well as ongoing comedy segments including "Headlines," "Ask Jay Anything," "Stuff We Found on eBay," "Jaywalking" and "Battle of Jaywalking All-Stars." The result is a unique and humorous look at today's pop culture.
"The Tonight Show" was honored for Emmy Awards in 1995, 1996, 1997 and 1999 and voted by TV Guide readers as 'Favorite Late Night Show' in 1999 and 2000. Other notable achievements include: Leno's exclusive interview with Senator John Glenn and the astronauts aboard the Space Shuttle Discovery; a pay-per-view wrestling match between Leno and Hulk Hogan; "The Tonight Show Unplugged" in response to California's power crisis; a sum of $360,200 raised for The Twin Towers Fund in 2001 and $505,100 raised to benefit the Red Cross Hurricane Katrina fund in 2005 from auctioning off Leno's celebrity-signed motorcycles on eBay and a special 2001 Thanksgiving show broadcast live on Armed Forces Radio and Television Services to entertain U.S. military personnel worldwide.
In addition, the program continued to make history in April 1999 when it became the first television series to be broadcast nightly in HDTV (high-definition television). In 2004 "The Tonight Show" celebrated its 50th Anniversary with tributes to all of its former hosts, Steve Allen, Jack Paar and Johnny Carson.
The program has also proven to be a barometer of political clout. In 2000, the Los Angeles Times noted that "the road to the White House apparently leads through Burbank," as each presidential candidate -- Al Gore, George W. Bush, Bill Bradley and John McCain - appeared to demonstrate their relaxed, good-humored side on the show during the presidential elections.
California Governer Arnold Schwarzenegger used "The Tonight Show" stage in 2003 to announce that he would be running for office and the 2004 election year brought Laura Bush, John Kerry, John Edwards and John McCain to "The Tonight Show" couch. The show also created a lot of buzz when it debuted the incredibly successful internet political cartoon "This Land" from Jib Jab for the first time on television.
Many of the world's most popular celebrities, musical guests and newsworthy names make "The Tonight Show with Jay Leno" a priority stop on their publicity rounds. In addition to star-power, the "Tonight Show" production team searches for the most interesting "civilian" guests such as kid inventors and individuals with quirky talents and funny stories.
The Stills
---