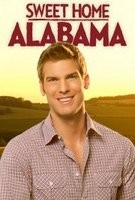 TV Info
---
Category
Reality TV

Genre
Reality

Starring :
Tribble Reese


December 10, 2011 12:12:49
Tribble Reese has made his final decision on "
Sweet Home Alabama
" season 2. After dating 22 girls throughout the course of season 2, the 26-year-old model finally landed his heart on Tristan Smith in the Friday, December 9 episode.
Earlier in the season finale, Tribble had one last date each with Tristan and the other remaining finalist, Jacqueline Honulik. For their romantic getaway, the Atlanta-born hunk and city girl Jacqueline had a private cruise in New York and watched the sunset at the Statue of Liberty. They even declared "I love you" to each other under the Brooklyn Bridge.
...
December 01, 2011 03:12:03
Tribble Reese is one step closer to make his final choice on "
Sweet Home Alabama
" in this week's episode. After narrowing down the bachelors to 4 in the last episode, the 26-year-old hunk will give the bad news to the girls as he is going to chop down two more contestants.
Early in this second season of the CMT dating show, 11 city girls and 11 country gals were vying for the affections of the eligible bachelor, Tribble. Among the currently remaining four finalists, there is only one non-Southerner, who is Jacqueline Honulik.
...