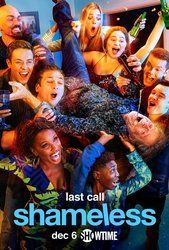 TV Info
---
Category
TV Series
Genre
Drama
Starring :
William H. Macy
,
Emmy Rossum
, Ethan Cutkosky, Emily Bergl,
Jeremy Allen White
,
Cameron Monaghan
, Emma Kenney,
Joan Cusack
, Shanola Hampton,
Steve Howey
, Emma Greenwell, Noel Fisher,
Justin Chatwin
, Chris Brochu,
Will Sasso
,
Sasha Alexander

"Shameless" stars Oscar(R) nominee and Emmy(R) winner William H. Macy as pickled patriarch Frank Gallagher and Golden Globe(R) nominee Emmy Rossum as daughter and resilient Gallagher leader Fiona.
Recently garnering three Emmy Award nominations in the comedy category, "Shameless" season five finds the Gallaghers dealing with both the upside and downside of personal and urban renewal. As their neighborhood begins a move towards gentrifying, the Gallagher clan begins to reconcile their chaotic past in the hopes of building a better future.