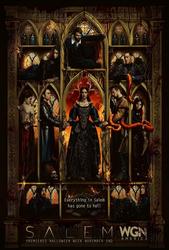 TV Info
---
Category
TV Series
Genre
Horror, Supernatural
Starring :
Janet Montgomery
,
Shane West
, Seth Gabel, Xander Berkeley,
Ashley Madekwe
, Tamzin Merchant, Elise Eberle, Iddo Goldberg,
Lucy Lawless
,
Stuart Townsend
, Joe Doyle, Oliver Bell

WGN America's "Salem" enters the world of the most notorious witch trials in history, a period steeped in fear, suspicion, and hysteria. On an expansive set in Shreveport, La, built to reflect volatile 17th century Massachusetts, "Salem" explores what really fueled the town's infamous witch trials and dares to uncover the dark, supernatural truth behind them. In "Salem," witches are real, but they are not who or what they seem. The show, which centers on an epic romance wrapped around this explosive revelation, delivers a bold new vision of Salem - and an even bolder new vision of witches.
In "Salem" season two, the Grand Rite triggered at the end of last season is now underway and death is in the air, but the Witch War is just beginning - and Salem is at the epicenter of both. In order to bring her plan to completion, Mary Sibley must not only control Captain John Alden (Shane West, "A Walk to Remember") and the citizens of Salem, but also those lurking in the shadows who seek the power she wields.
"Salem" boldly re-imagines the Infamous witch trials in the 17th century Massachusetts town. The storyline follows Captain John Alden returning from war to his hometown of Salem, where he finds it in the grip of a witch panic and discovers that his lost love, Mary Sibley, is now married to his old nemesis George Sibley. Throughout the fiery first season filled with wicked deceit and shocking revelations, the two must navigate a world where horror, hysteria and the Supernatural reign. At the end of season one, John commits to risking his life for his one true love, even after learning Mary is a witch and at the center of the hysteria plaguing Salem.