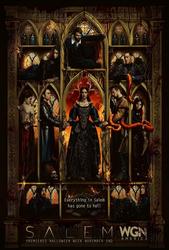 TV Info
---
Category
TV Series
Genre
Horror, Supernatural
Starring :
Janet Montgomery
,
Shane West
, Seth Gabel, Xander Berkeley,
Ashley Madekwe
, Tamzin Merchant, Elise Eberle, Iddo Goldberg,
Lucy Lawless
,
Stuart Townsend
, Joe Doyle, Oliver Bell

March 03, 2015 01:03:27
The first official trailer for "
Salem
" season 2 has landed online. Packed with creepy scenes, the video suggests that a witch war is coming in the next installment. There are glimpses of corpses, a bloody John, a monster and the word "War" spelled out in flames, which are all set to Mary Sibley's eerie rendition of "Hush, Little Baby".
It also offers a look at
Lucy Lawless
as Countess Marburg, a witch descended from a line of ancient German witches. She claims herself to be "the last of the true witches." "She could kill any one of us," Tituba warns Mary.
...
April 16, 2014 04:04:52
A few days shy of "
Salem
" premiere, WGN America has debuted another trailer for the new series. The promo video captures the fear that turns the beautiful and peaceful village into a bleak town full of sinister.
"There's something worse than a witch hunt," says Mary Sibley (
Janet Montgomery
, "
Entourage
"), a member of Salem's elite who also happens to be a powerful sorceress. Things get complicated as she, years ago, fell in love with John Alden (
Shane West
, "
Nikita
"). Serving as a soldier for years in wars, John returns home only to find his village whipped into a witch-hunting frenzy.
...