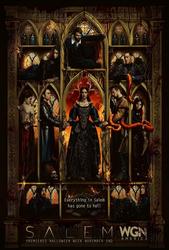 April 16, 2014 04:04:52
A few days shy of "
Salem
" premiere, WGN America has debuted another trailer for the new series. The promo video captures the fear that turns the beautiful and peaceful village into a bleak town full of sinister.
"There's something worse than a witch hunt," says Mary Sibley (
Janet Montgomery
, "
Entourage
"), a member of Salem's elite who also happens to be a powerful sorceress. Things get complicated as she, years ago, fell in love with John Alden (
Shane West
, "
Nikita
"). Serving as a soldier for years in wars, John returns home only to find his village whipped into a witch-hunting frenzy.
...