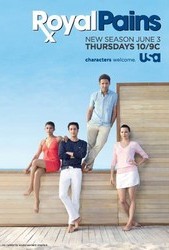 USA Network is proud to announce the return of the Hamptons' newest doctor-on-demand, Hank Lawson (Mark Feuerstein), in Royal Pains.
Once a rising star in the New York City medical community, Hank found himself out of work, dumped by his fiancee and out of options after a dustup with some hospital honchos. Fed up with Hank's personal pity-party, his younger brother, Evan (Paulo Costanzo), convinced Hank to join him on a last-minute trip to the Hamptons for Memorial Day weekend. When the brothers crashed a party at the home of a Hamptons billionaire and a guest fell critically ill, Hank saved the day. His dramatic medical rescue drew attention from the crowd, and soon Hank's phone started ringing off the hook with patients wanting Hank to make house calls.
By the end of the weekend, HankMed was born. With Evan as the company's CFO and the whip-smart, ambitious Divya (Reshma Shetty) as Hank's physician's assistant, Hank becomes the Hamptons' new in-demand Doctor-for-Hire. News travels fast on the East End, especially when it's about a talented young doctor with MacGyver-like skills who makes house calls. But the rich and powerful aren't the only ones seeking out HankMed's services; there are plenty of less well-off locals who need his help, too, and he's more than happy to lend a hand.
But even with a few Hamptons summers already under their belts, things aren't going to be so easy for the HankMed team this time around. Hank is recovering from a life threatening injury, and might not be out of the woods just yet. Evan and Paige (Brooke D'Orsay) are newly married, but discovering that their honeymoon phase may already be over. Divya finds that choices she made over the winter will change her life forever. And HankMed's newest doctor, Jeremiah Sacani (Ben Shenkman) returns to find that his unrequited feelings for Divya are even stronger than before. All of these changes threaten the very existence of HankMed. And the mysterious circumstances surrounding Boris' death still hang in the air. So as summer heats up in the Hamptons, this season promises to be anything but a walk on the beach!