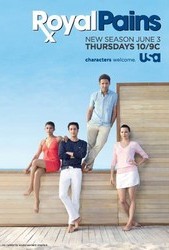 September 20, 2012 10:09:07
During its upcoming winter hiatus, "
Royal Pains
" will have its two-hour movie aired in December. The special event will focus on Evan and Paige's wedding, which takes place a few months after the September 19 summer finale. A toast, a celebration and a kiss are some of the scenes shared in a newly-released promo.
Titled "Off-Season Greetings", the telepic is slated to air Sunday, December 16 at 9 P.M. on USA Network. It will show the Hamptons in the winter for the first time, and take a look back at the days before Hank and Evan moved to the East Coast and before HankMed was founded.
...
February 01, 2012 12:02:43
In the next "
Royal Pains
", Hank's back is acting up, forcing him to come to the aid of rival Dr. Van Dyke. In an exclusive clip for AceShowbiz, Evan takes charge of the doctors' schedule as Hank takes a leave. He divides the team into girls and boys, taking Van Dyke with him to boost business.
The upcoming episode is directed by star
Mark Feuerstein
. "There's a high speed chase, a bug extraction, an impalement, dream sequences. Mark was not given an easy task with this one, but he did a great job," show's star
Jill Flint
told TV Fanatic about Feuerstein's first task as director.
...