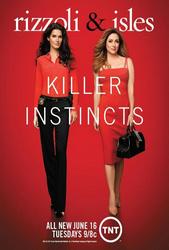 Based on characters created by best-selling crime novelist Tess Gerritsen, RIZZOLI & ISLES stars Angie Harmon as Jane Rizzoli, a tough-as-nails Boston police detective, and Sasha Alexander as Maura Isles, a smart, impeccably dressed medical examiner from a privileged background. Despite being complete opposites, the two women share an offbeat chemistry and strong working relationship that has helped them bust some of Boston's most notorious criminals.
Lorraine Bracco stars as Jane's demanding and intrusive mother, Angela. Lee Thompson Young is Detective Barry Frost, Jane's somewhat green partner. Bruce McGill plays Detective Vince Korsak, Jane's seasoned former partner who resents her being paired with Frost. And Jordan Bridges is Jane's brother, Frankie Jr., a patrol cop who hopes one day to become a detective.
As the second season of RIZZOLI & ISLES opens, Jane and Frankie Jr. are each recovering from bullets they took during a siege at the police station. As Jane struggles to overcome scars that are more emotional than physical, an old flame - Sergeant Major Charles "Casey" Jones (Chris Vance - Dexter, Burn Notice) - comes back into her life.
On the homefront, Jane's mother is despondent over a major upheaval in her own life. The situation will be complicated even more by the arrival of Jane's younger brother, Tommy (Colin Egglesfield - Something Borrowed, Melrose Place), who was recently released from prison. And for Maura, home life will get complicated when she receives a visit from her adoptive mother, Constance Isles (Jacqueline Bisset - Nip/Tuck, Joan of Arc), a brilliant modern artist and art historian.
Jane and Maura will take on a number of intriguing cases this season, including a murder carried out during a Revolutionary War re-enactment, a killing in a professional baseball team's locker room, a complicated case involving a surrogate mother and a case involving the Salem witch trials. Jane will also face the return of serial killer Charles Hoyt (Michael Massee - Flash Forward), who takes a special joy in tormenting her.