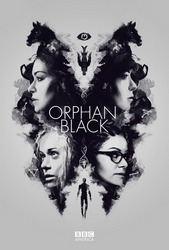 TV Info
---
Category
TV Series
Genre
Drama, Mystery
Seasons
3
Production Co.
Temple Street Productions, Bell Media's Space
Distributor
BBC America
Official Site
click here

Cast and Crew
---
Main Cast
Tatiana Maslany as Sarah Manning / Cosima Niehaus / Alison Hendrix
Ari Millen
Jordan Gavaris
Justin Chatwin as Jason Kellerman
James Frain as Ferdinand
Dylan Bruce
Maria Doyle Kennedy
Kevin Hanchard
Evelyne Brochu
Michael Mando
Michiel Huisman
Zoe De Grand Maison
The Story
---
The conspiracy thriller stars award-winner, Tatiana Maslany, who returns to her unprecedented lead role as multiple clones. The critically-acclaimed, action-packed series that sparked an inspired fan base named Clone Club, unveiled new and more treacherous enemies in season two. But it was the finale that shocked viewers when it introduced a male line of clones, raising more complex questions that left viewers on the edge of their seats.
Maslany played five recurring characters throughout season two including British street-wise chameleon Sarah, suburban soccer-mom Alison, cosmic-thinking scientist Cosima, Ukrainian wildcard Helena and ruthless pro-clone Rachel. In addition, she raised the bar by taking on the roles of Transgender clone, Tony, and sick and dying clone, Jennifer.
Season three plunges the clone sisterhood into unexpected territory with the realization that they're not alone. Just when they thought they knew their enemies and allies, season three reveals our clones are more vulnerable than ever before. Highly trained, identical male-soldiers raise more questions than answers. Who are these new clones? Who created them? And more importantly, why do they exist? Sarah, Cosima, Alison and Helena are stronger together than they are apart, but this season will put that bond to the test. Will they forge towards their truth, or fall at the feet of those who seek to control them?
Returning in a lead role is Ari Millen, who plays the newly discovered male clones - Mark, the Prolethean cult follower and Rudy, a prisoner of war. Also back this season is Jordan Gavaris as Sarah's fiery foster brother Felix, Dylan Bruce as Paul, an army officer working for secret forces in the clone world, Maria Doyle Kennedy as Sarah and Felix's duplicitous foster mother Mrs. S, Evelyne Brochu as Dyad Scientist and Cosima's lover Delphine, Kevin Hanchard as Art, a detective caught in the clone trap, Michiel Huisman as Cal, father to Sarah's daughter Kira (Skyler Wexler) and Zoe De Grand Maison as Gracie, a Prolethean escapee.
The Stills
---