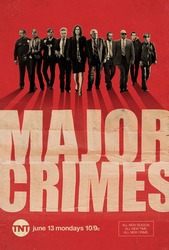 TV Info
---
Category
TV Series
Genre
Crime, drama, mystery
Starring :
Mary McDonnell
, Tony Denison,
G.W. Bailey
, Raymond Cruz, Michael Paul Chan,
Robert Gossett
, Phillip P. Keene, Graham Patrick Martin, Kearran Giovanni, Jonathan Del Arco,
Jon Tenney

September 28, 2012 03:09:20
"
Major Crimes
" has secured a new season order from TNT. Garnering strong ratings for the cable network since its debut in August, the spin-off to "
The Closer
" will return for its sophomore run in summer 2013.
"Week after week, 'Major Crimes' has drawn millions of fans with its combination of sharp writing and engaging characters brought to life by what can only be described as one of the best acting ensembles on television," says Michael Wright, president and head of programming for TNT, when announcing the renewal. "We look forward to another season of this remarkable new drama."
...
May 30, 2012 01:05:13
While "
NCIS: Naval Criminal Investigative Service
" is on hiatus,
Michael Weatherly
is filming his scenes for another show. The 43-year-old actor lands a guest role on "
The Closer
" spin-off "
Major Crimes
" as a charming con artist named Arthur "Thorn" Woodson.
Described as a "Peter Pan with an A.D.D. problem," Thorn currently works as an "intuitive life strategist" for a group of Israeli mob wives, all of whom he is bedding. His previous jobs include being a hand model, a ventriloquist and a black jack dealer, but his dream is to have his own show on
Oprah Winfrey
's cable network OWN.
...