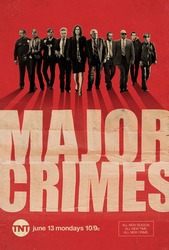 TV Info
---
Category
TV Series
Genre
Crime, drama, mystery
Starring :
Mary McDonnell
, Tony Denison,
G.W. Bailey
, Raymond Cruz, Michael Paul Chan,
Robert Gossett
, Phillip P. Keene, Graham Patrick Martin, Kearran Giovanni, Jonathan Del Arco,
Jon Tenney

Television's favorite squad of detectives is on the case in Major Crimes, TNT's powerful crime-drama that ranks as one of basic cable's Top 10 original series. Major Crimes focuses on how the American justice system approaches the art of the deal as law enforcement officers and prosecutors work together to score a conviction. The elite team is back, headed by two-time Oscar nominee Mary McDonnell as Los Angeles Police Captain Sharon Raydor, G.W. Bailey as Lieutenant Provenza, Tony Denison as Lieutenant Andy Flynn, Michael Paul Chan as Lieutenant Mike Tao, Raymond Cruz as Detective Julio Sanchez, Kearran Giovanni as Detective Amy Sykes, Phillip P. Keene as tech expert Buzz Watson, Robert Gossett as Assistant Chief Russell Taylor and Jonathan Del Arco as Dr. Morales. Graham Patrick Martin returns as Rusty Beck, the homeless teen who was officially adopted by Captain Raydor last season.