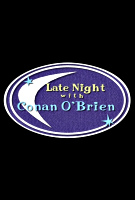 TV Info
---
Category
Talk Show
Genre
Talk-Show, Comedy, Music
Starring :
Conan O'Brien
, Andy Richter

Since "Late Night with Conan O'Brien" debut in 1993, it has attracted fans with its innovative comedy, including the sketches "In the Year 2000," "If They Mated," and "Clutch Cargo" (in which photos of various politicians and celebrities appear with someone else's lips and voice doing the talking). Over the years, many other recurring comedy bits and characters including "Triumph the Insult Comic Dog," "Pimpbot 5000," and "The Masturbating Bear" have gained loyal followings.
In 2006, "Late Night" was honored with five Emmy nominations (a personal best for the show), including nominations for Outstanding Variety, Music, or Comedy Series (for the 4th straight year) and Outstanding Writing for a Variety, Music, or Comedy Series (for the 10th straight year). 2006 also saw Conan and the "Late Night" writing staff win a Writers Guild Award for Best Writing for a Comedy/Variety Series, their sixth Writers Guild Award overall (including consecutive wins in 2002 and 2003).
"Late Night" offers viewers an eclectic and entertaining mix of provocative guests. Like other talk shows, "Late Night" books A-list guests who chat up their latest blockbuster movie, hit television show, or other projects, but the difference rests with O'Brien's improvisational style. Dubbed "TV's freshest talk show host" by Entertainment Weekly, O'Brien has also been called "an able and quick-witted interviewer" by The New York Times. In addition, "Late Night" offers viewers takes on guest interviews that they won't find elsewhere, with past examples including Jim Carrey performing an extended comedy bit with physicist Stephen Hawking on a cell phone; Martha Stewart enjoying some malt liquor and a bean burrito; and Will Ferrell doing a complete segment as Robert Goulet.
"Late Night" has also experienced phenomenal success on the road during past trips to Los Angeles, Toronto, and Chicago. What's more, "Late Night" is also willing to bend the traditional talk show format, with past episodes including an entire episode in clay animation, an episode with an audience comprised entirely of children, and Conan's much-talked about episode chronicling his trip to Finland to meet the country's president (and his dead ringer look-alike), Tarja Halonen.
From the beginning, "Late Night with Conan O'Brien" has been a premiere venue for music, welcoming the most diverse and cutting-edge assortment of musical performers anywhere on network television. Visitors to the program have included acts ranging from living legends to current hitmakers to underground sensations. In addition to countless network television debuts (including Radiohead, Green Day, Sheryl Crow, and Coldplay), the show has been innovative in its presentation of bands, with past examples including full-week bookings of Neil Young and The White Stripes, and turning over an entire episode to U2 complete with band-themed comedy pieces (such as The Edge performing "In the Year 2000").