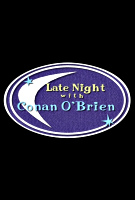 TV Info
---
Category
Talk Show
Genre
Talk-Show, Comedy, Music
Starring :
Conan O'Brien
, Andy Richter

February 25, 2009 10:02:02
It may be the end of
Conan O'Brien
in "Late Night" but it's not the end of his combined force with Andy Richter. By the time O'Brien takes over "Tonight Show" from
Jay Leno
this summer, he will be joined by his "Late Night" co-host Richter who will be a full announcer.
"Andy is one of the funniest people I know, and we've maintained a close friendship since he left Late Night," O'Brien said. "We have a proven chemistry that will be an incredible asset to The Tonight Show." He added as a joke, "I'm looking forward to working with Andy on a daily basis again, particularly since he owes me $300."
...
February 23, 2009 12:02:10
The curtain has been drawn for "
Late Night with Conan O'Brien
" on Friday, February 20 as
Conan O'Brien
's 2,725th sign off was made the last. A few selected highlights from O'Brien's last episode on the talk show before he moves on with "Tonight Show" in fall, are posted below.
Among the things presented on the telecast were the visits from
Will Ferrell
who was there as his "
Saturday Night Live
" persona President Bush,
The White Stripes
, Abe Vigoda and
John Mayer
. Andy Ritcher who was O'Brien's co-host for 7 years was also there for the first time after he departed in 2000.
...