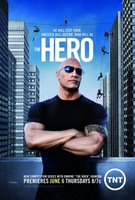 TV Info
---
Category
Reality TV
Genre
Reality-TV
Starring :
The Rock

June 04, 2013 09:06:27
A new extended look at TNT's new show "
The Hero
" has been shared online. The five-minute sneak peek features the host, Dwayne "
The Rock
" Johnson, explaining what they are looking for. Through an epic competition, the show will test the nine contestants physically, mentally and morally to decide who has the quality of a hero.
Throughout the daring challenges, The Rock will be there to offer support to the players. The physical tests aside, the promo video reveals the ultimate goal, motivation and inspiration of each contestant.
...