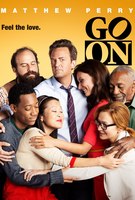 TV Info
---
Category
TV Series
Genre
Comedy
Seasons
1
Production Co.
Chapman/Leonard Studio Equipment, NBC
Distributor
NBC
Official Site
click here

The Story
---
After taking some time off, Ryan - who recently lost his wife in a car accident - is now ready to get back to work. And while he seems like his same old charming, cocky self, his boss won't put him back on the air until he seeks counseling. So, Ryan reluctantly joins a support group with one goal in mind: get in, get out and get back on the radio as quickly as possible.
Played by the fast-talking, sarcastic, and charismatic Matthew Perry, Ryan gives grief a real run for its money. Within one day of group therapy, he hijacks the meeting and suddenly the downtrodden are cajoled into playing a game of "who has the best sob story?" And in no time all of them are battling it out, trying to one-up each other's despair. Now, this is fun!
Ryan's total lack of interest in healing might be just what this group needs - and maybe, exactly what he needs to move on with his life. From Emmy-winning writer and executive producer Scott Silveri ("Perfect Couples," "Friends") comes a new series that proves grief can be good.
The Stills
---