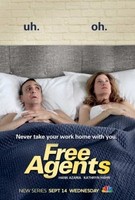 TV Info
---
Category
TV Series
Genre
Comedy
Seasons
1
Production Co.
Big Talk, Dark Toy, Universal Media Studios
Distributor
NBC
Official Site
click here

The Story
---
Alex is recently divorced, and Helen lost her fiance a year ago. Obviously, these two are definitely not ready to be dating again. So naturally, they end up in bed together one night. Oops. And they're co-workers. Double oops. At least they have one thing in common: they're both in need of getting back on the horse again but unable to figure out how.
Despite their little romantic encounter, however, they decide to just remain friends. Helen insists this has nothing to do with Alex crying like a baby after sex. And Alex tries to reassure Helen that she'll have no trouble finding a new boyfriend as soon as she removes the pictures of her dead fiance that are all over her apartment. The rest of the office tries to get Alex back out there... but no matter how many douchey shirts they make him buy, he's never going to be a ladies' man. His colleagues aren't actually much help: from the boss who can't wait to hear about Alex's sexual exploits to the eternal "player" who wants Alex as his new wing man. When he finally gets up the courage to go on a date, Helen finds herself just a little jealous... which is what Alex secretly wanted all along. And one drunk-dial later, they end up back in bed together. Looks like this might be the start of something (awkward) big.
The Stills
---