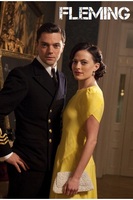 TV Info
---
Category
TV Series
Genre
Drama
Seasons
1
Production Co.
Ecosse Films
Distributor
BBC America
Official Site
click here

Cast and Crew
---
Director
Mat Whitecross
Main Cast
The Story
---
There's no questioning the iconic status of the man they call 007, but before his thrilling adventures hit the page or screen, they were experienced first-hand by author-to-be, Ian Fleming. Stylish and explosive - Fleming: The Man Who Would Be Bond tells the fascinating story of the man whose own life and escapades were the inspiration for one of the most iconic figures in modern literature - James Bond. The new original four-part drama stars Dominic Cooper (Captain America: The Winter Soldier) as Fleming, a charming and sophisticated maverick, whose pleasure-seeking life was turned around by WWII and led to the creation of the greatest spy the world has ever known. Fleming: The Man Who Would Be Bond premieres Wednesday, January 29, 10:00pm ET/PT as part of BBC AMERICA's Dramaville.
Set at the outbreak of WWII - mischievous playboy Ian Fleming is untroubled by the specter of impending war - chasing women, collecting rare books and living off his family fortune. Forever in the shadow of his brother Peter (Rupert Evans, World Without End), and an eternal disappointment to his formidable mother Eve (Lesley Manville, Maleficent), Fleming dreams of becoming the 'ultimate' man - a hero, a lover, a brute and the one who always gets the girl. He is finally given some direction in his life when he's recruited by the Director of Naval Intelligence, Admiral John Godfrey (Samuel West, Jonathan Strange & Mr Norrell), to help in the effort against the Nazis. Suddenly, Fleming finds his chance to shine and prove his worth.
At first, Fleming's inclined to treat his new job in Naval Intelligence as a big adventure. But as he encounters the shocking consequences and challenges of war, he learns where his talents lie. With the somewhat skeptical support of tough-cookie Lieutenant Monday (Anna Chancellor, The Hour), Fleming's ability to spin a tale makes him a perfect fit for espionage and quickly takes him from pushing paper to stealing secrets.
From the director of the BAFTA-nominated Road to Guantanamo, Mat Whitecross, Fleming: The Man Who Would Be Bond captures both the opulence of high society London and the suspense and intrigue behind enemy lines. Through mind-blowing escapades at home and abroad, Fleming risks his life. At the same time, the stakes increase as Fleming faces his own inner demons, battling to breakdown the walls within and open himself to love. His chance encounter with the captivating baroness, Ann O'Neill (Lara Pulver, Sherlock), becomes a passionate affair that shapes both their lives. While Bond fans will spot many a nod to the legendary agent, the series is ultimately a gripping account of a playboy spy and the woman who won his heart.
The Stills
---