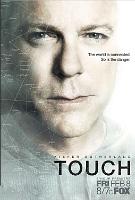 TV Info
---
Episode Premiere
September 14, 2012

Distributor
FOX

Genre
Drama

Show Period
2012 - 2013

Production Company
20th Century Fox Television, Chernin Entertainment


Cast and Crew
---
Director
Nelson McCormick
Screenwriter
Melinda Hsu Taylor
Main Cast
Additional Cast
David de Lautour
Satomi Okuno
May Miyata
Slade Pearce
Skyler Stone
Synopsis
---
As Jake types "676767676767..." on his cellphone, Martin drives through Oregon. A flat tire unexpectedly sends them to a garage in McMinnville, the town where Martin started his journalism career.
In voiceover, Jake says we can't help wondering how much difference one person makes. But every single thing we do has an effect on the people around us - even people we've never met.
Meanwhile, DJ Oliver of station KWJS (670 AM) says it's community service day and shares a list of 67 good deeds to help change the world. Nearby, a geeky teen heads into the woods. He's on a quest to survive alone for a week - to prove he can help his financially struggling parents.
Remember Simon Plimpton, the restaurant-supply salesman and grieving dad who's the original owner of the globe-skipping teddy bear phone? At home in London, he tells his wife, Nell, that his great new promotion is a chance to start over - in Paris! Nell gazes sadly at their deceased daughter's perfectly preserved bedroom. Later, she tells her therapist she can't move past her loss. Nell plans to set Simon free.
Martin has fond memories of McMinnville but isn't too popular there. Twenty years ago, his exposé about toxic asbestos in the steel mill saved lives . . . but the mill closed, and the town's economy suffered.
At the garage, Jake admires a red classic Mustang, which belongs to Henry Williams, Martin's former editor/mentor at the Tri Valley Register. Later, as Martin leaves a message for locksmith Lanford Biddle, Jake notices the Mustang's brake lines have been cut.
Beth, an old flame who's now the paper's office manager, tells Martin that Western Pacific Glass Company is expanding, leading the town toward recovery. Her husband, Travis, supervises the construction. Martin suspects that the brake sabotage is related to some story of Henry's, leading them to Western Pacific employee Nick Fowler, who stonewalls Martin. As Martin, Jake, and Beth return to her car, a brick shatters the rear window! An attached note warns, "Stop asking questions."
At Beth's house, Jake tunes into 670 AM. Travis arrives, angry to see Martin.
Quest Boy gets to prove himself when he stumbles across Lanford, injured after a fall. He has to drive the locksmith's truck, even though he doesn't know how.
Martin meets Henry, who says Nick told him about a chemical spill at a construction site, which will contaminate the groundwater. It's just the same corrupt scenario as before - greedy bastards endangering people for profit. Martin agrees to retrieve documents for Henry, who writes down an address.
At the site, a furious Travis confronts Martin. He reveals that Nick quit the job a week ago, before Travis could fire him for insubordination and laziness. Yes, he has proof. They realize that the note ordering them to "Stop asking questions" and the address Henry gave Martin are in the same handwriting. Stunned, Martin looks at the construction map and asks to go to the area labeled "67."
Listener Colleen tells DJ Oliver about the teddy bear phone she found. She sends her picture to some Japanese girls she saw on it - the Happy Pop Twins. At a London cafe, the Twins ask Nell to take their picture. While snapping the shot, Nell faints!
Martin sadly witnesses Henry accepting a payoff, then confronts him. It turns out that Nick and Henry are partners, framing Western Pacific for money. Bitter and disillusioned, Henry just wants the cash and doesn't care who gets hurt. He drives away but is run off the road by Quest Boy's clumsy driving. The police arrest him. Travis and Martin part as friends.
At the hospital, Simon and Nell are overjoyed to learn that she's pregnant!
Against the background of Jake's voiceover musings that the most lasting chain reactions are always started by love, the Happy Pop Twins snap a photo of themselves outside Nell's hospital room for Colleen. The Plimptons gaze at their baby's ultrasound. And Quest Boy's parents welcome him home.
Back on the road, Martin looks over at his son and smiles.