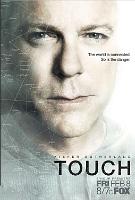 TV Info
---
Episode Premiere
May 31, 2012

Distributor
FOX

Genre
Drama

Show Period
2012 - 2013

Production Company
20th Century Fox Television, Chernin Entertainment


Cast and Crew
---
Director
Greg Beeman
Screenwriter
Tim Kring, Rob Fresco
Main Cast
Additional Cast
Synopsis
---
Martin gets a call that sends him rushing around, packing a bag. On the West Coast, Lucy follows her new map.
In voiceover, Jake says we humans don't like change. So we create the illusion of stasis. We want to believe in a world at rest, the world of right now.
Randall Meade finishes renovating the church in Lynchburg, Virginia, helped by Colin, a boy who idolizes him. Somewhere in Jamaica, a young man with a video camera tracks down musician Jamar Bekko.
While writing "4370" over and over, Jake continues: Yet the moment we grasp the now, the now is gone. Time forces us to grow, to adapt. Because every time we blink our eyes, the world shifts beneath our feet.
Sheri tells Clea it's time, saying she spoke to Mr. Bohm a few minutes ago. As Clea packs Jake's things, he puts on a hoodie and takes a cell phone from the stash under his bed.
Martin tells Abigail that Jake's being moved today, to a facility 50 miles away. Aster Corp. made Amelia disappear. He's not letting that happen to Jake. He goes to Arnie's Pawn Shop, where his friend is on the phone, discussing a 1917 brass sextant he sold. Martin wants a gun, and Arnie provides one but tries to talk him out of whatever he's planning. Martin says he doesn't have a choice and leaves, forgetting the bullets.
The video guy's watching his interview with Jamar inside his beat-up car at the California border. Lucy's SUV passes. The Bekko Brothers were once a musical force in Jamaica, but Jamar hasn't performed since his brother left years ago.
Jake's hood hides his face. Clea says a lot will change now, and change can be difficult. Also, she's really come to care for him. Meanwhile, Martin slips into the facility and avoids two Aster Corp. thugs. But Sheri sees him.
Colin's mother, Gwen, arrives with the sextant from Arnie's Pawn Shop, indulging her son's obsession with sailing history. She privately tells Randall she just learned Colin invited him to dinner tonight. He shouldn't feel obligated. Colin was four when his dad left, so he tends to cling to people who treat him kindly, especially men. Randall says dinner sounds good.
Clea tells Martin that Jake's in the rec room . . . but the hooded child isn't Jake! As Clea escorts Martin out, she explains she sent Jake home in a cab.
But Jake's not home. He's left Martin a message: 4370.
Near a subway entrance guarded by police, Jake gazes at his notebook. The Invisible Prince appears and shows Jake his own notebook. He helps Jake get to the subway.
At a gas station, Lucy meets Video Guy, whose car is dead. He's headed to San Luis Obispo, looking for a Jamaican musician. He shows her raw footage he posted from his project: It's Baaba Maal, singing Bob Marley's "Three Little Birds" in Mali, Africa. He already has 318 hits. Lucy says 318 was an important number to her daughter. She'll give him a ride.
Needing numbers for his sextant calculations, Colin picks out 87 and 31 from the church blueprints. Randall adds 11, 1, 9, and 20 - then realizes these are the lottery numbers, from his encounter with Sarah Bohm. Where do they point?
Martin finds Jake at Sarah's grave. Her birthday was 4/3/70. Somehow, they have to get out of the state undetected. He goes to Abraham for help and learns that someone cleaned out Teller's office.
Randall drives to Gwen's house in a brand-new car. He has to leave for a while, sorry.
Jake finds a tide chart and puts it on a table. Abraham sends the Bohms to a bus station, where a friend will help them get to Minneapolis. But Jake fixates on bus no. 4370, headed to Los Angeles. Martin changes their tickets.
Lucy drops off Video Guy, whose project involves 50 musicians in different countries, all singing the same song. A woman answers his knock and says Thomas Bekko is away for three months. He tells her how much Jamar misses singing with his brother, and makes the startling discovery that she IS Thomas. How could she explain to Jamar what it felt like, being trapped in your own body?
Randall arrives at the destination Colin plotted, but it's nowhere special. Now what?
The thugs confront the Bohms, and Martin is disarmed by one, who aims at Martin and pulls the trigger! Luckily, no bullets. Martin decks him, and Jake runs into the street. Randall slams on the brakes.
Randall realizes he's finally meeting Sarah's family when Martin says he got his message on March 18. Randall says the dying Sarah told him she wasn't scared, because she already had everything she'd ever dreamed of. He wanted to tell Martin how brave she was, and how much she loved them. Martin says now they can move on.
Randall gives Martin his car, then returns to Gwen and Colin. From the road, Martin calls Clea to thank her.
The Bekkos reunite in Video Guy's project, where musicians around the world sing "Three Little Birds."
The Happy Pop Twins cavort on the Santa Monica Pier as Jake rushes to the end. Lucy walks by, and her map blows out of her bag. Martin gives it to her, saying his son's into numbers. She says she's looking for her daughter, Amelia. Amelia, repeats an awed Martin. Jake stares across the water and suddenly grasps his father's fingers. Surprised and grateful, Martin looks across the water too. And the musicians sing, "Every little thing is gonna be all right."