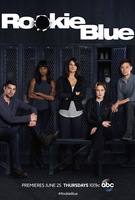 TV Info
---
Episode Premiere
June 27, 2013

Distributor
ABC

Genre
Drama

Show Period
2010 - now

Production Company
E1 Entertainment, Thump, Inc.


Cast and Crew
---
Director
Lynne Stopkewich
Screenwriter
Sherry White
Main Cast
Additional Cast
Synopsis
---
POLICE LOG: A masked ATM robber is plaguing the city. Officers are on the lookout for a man with a distinctive tattoo on his upper right butt cheek. Detailed report on how this incriminating information was exposed follows:
Andy's confidence soars when her paintball team wins the day by capturing the coveted camel that stands in the middle of the course. Gail thinks it's a giraffe, but it's a camel. Traci lets Andy know that Sam's new girl is different, not better than her. She's about to find out how different. Andy is partnered with Officer Marlo Cruz.
Dov thinks the girl he had sex with at the Penny is stalking him at the precinct. As it turns out, Officer Chloe Price works there. Dov is stunned to learn that his new partner is also Frank's goddaughter. Awkward! Chloe has been a cop for only eight months. She's a free-spirited chatterbox which is what she got chased out of her last division. Dov is caught off guard by Chloe's unusual police tactics even though they seem to work.
A masked man is robbing people at ATM machines. This brazen thief moons the security camera letting the team know that they are looking for a guy with a distinctive tattoo on his butt. While investigating a possible suspect, a TV set crashes onto Andy and Marlo's squad car from above. Andy realizes the disturbance involves Wanda Starks. The lady has issues, but she's harmless if she stays on her meds. Marlo arrests Wanda's neighbor. The guy was frustrated because of all the noise being made by Wanda. Andy calms the troubled lady down and assures Marlo that she'll be okay.
Another ATM robbery occurs. A man is severely beaten. The assailant said "life is beautiful" to the victim. This is vital info, but Chloe seems more impressed by the sofa at the antique store next to the crime scene. The tattoo artist who may have served the robber thinks Chris would look good with a little body art. In other news, there's more trouble back at Wanda's place. Her apartment has been trashed and there's blood on the walls. Her neighbor has been stabbed. As for Wanda, she's holed up in the building's basement holding a young kid hostage. She's doused herself in gasoline so Andy can't use her taser.
Andy tries her best to talk down Wanda, who grabs a knife. She chases after the kid when he bolts. BANG! Marlo shoots Wanda. Andy is ticked. She felt like she was getting through to Wanda until the kid startled her. Andy changes her tune when she gets back to the precinct. She thanks a visibly shaken Marlo for having her back and doing her job. Andy later lets Sam know that his new lady is great. She has a talent for knowing when to walk away when the odds are against her. That's what she's planning to do with Sam.
Gail wants Nick to try the disgusting drink she's been using for a cleanse. That's not going to happen. The two of them are cataloguing seized items when a man brings in an abandoned urn he found. Gail names the deceased guy in the jar Ernie. Get it? Actually, the guy's name is Roy and his only remaining relative doesn't want him. Gail decides to spread the guy's ashes into the lake. The caring, romantic quality that Gail always tries to hide inspires Nick to try her disgusting drink as a show of commitment. In other commitment news, Chris ends up getting a tattoo of his son's name on his arm.
Chloe realizes that the ATM robber is hitting machines in cool little neighborhoods with antique shops. These stores typically only accept cash. The suspect waits for shoppers to make large withdrawals. Dov and Chloe track down an art gallery owner with lots of tattoos. There's a billboard above his place that reads "Life is Beautiful." Chloe places the guy under arrest. Dov is impressed, but thinks they should keep their relationship professional from here on out. Besides, his ears need a rest from all her yammering. Still, Chloe doesn't believe her new partner is completely opposed to getting to know her better personally in the future.