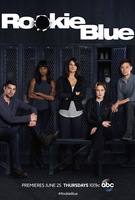 TV Info
---
Episode Premiere
June 24, 2010

Distributor
ABC

Genre
Drama

Show Period
2010 - now

Production Company
E1 Entertainment, Thump, Inc.


Cast and Crew
---
Director
David Wellington
Screenwriter
Tassie Cameron
Main Cast
Additional Cast
Peter MacNeill
Aidan Devine
Sarain Boylan
Synopsis
---
POLICE LOG: Shots fired at 306 Dunn. Officer Andy McNally storms a crack house, resuscitates an OD victim and makes what appears to be a good arrest. It's not. Officer Traci Nash finds a young boy abandoned in a closet. Officer Gail Peck and Officer Dov Epstein pull desk duty. Both are asked to search a rather unusual suspect. Officer Chris Diaz loves his brothers and sisters in blue even though for himself, Nash, Peck, Epstein and McNally, it's their very first day on the job as rookie cops. Detailed report follows:
It's rookie police officer Andy McNally's (Missy Peregrym) first day as she rolls out on patrol with training officer, Oliver Shaw (Matt Gordon). Shots are fired at an apartment building. Little kids are inside. Andy and Shaw have no choice but to swing into action. They storm into an apartment to find a drug dealer dead on a sofa and a young girl unconscious on the floor. Against Shaw's advice, Andy gives the OD victim CPR to get her breathing again as help arrives. That's the good news. The bad news is the shooter is still on the loose.
Andy and streetwise rookie Traci Nash (Enuka Okuma) are ordered to sweep the rest of the crack house. Traci finds a young boy hiding in a closet. He's well-spoken and well-dressed. Traci tells her training officer, Noelle Williams (Melanie Nicholls-King), that there's no way this kid belongs in this dump.
The boy's father shows up at the police station. We can sense Traci's total distain for this guy once she realizes he's a nervous drug user who abandoned his boy. See, Traci is a loving single mom, a fact she seems to be keeping from her coworkers. Her other big secret is her risky relationship with Detective Jerry Barber.
Wise-cracking, thrill-seeking Dov Epstein (Gregory Smith) and ambitious, legacy cop Gail Peck (Charlotte Sullivan) spend their first day catching calls at the station. Desk duty is put on hold when a transgendered collar needs to be searched. Should he/she be searched by a policeman or a policewoman? Staff Sergeant Boyko determines that the suspect's driver's license indicates the search should be done by a guy. So, Dov is handed a pair of disposable plastic gloves. Yes, police work can get messy.
Outside the crack building, Chris Diaz (Travis Milne) and his training officer, Frank Best, get a description of the gunman from a prostitute named Sadie Falls. As for Andy, she interrupts a drug deal involving a greasy guy who matches the description of the shooter. She's way proud of herself after cuffing the pair until it's revealed that one of her arrestees is Sam Swarek (Ben Bass), an undercover cop.
Swarek is totally ticked at Andy, but mentions the gunshot victim is a bad news drug dealer. He says he saw a kid in an orange t-shirt run into an empty building. Andy relays this new info to Luke Callaghan (Eric Johnson), the charismatic homicide detective who caught the case. Callaghan is the lead investigator on the task force searching for the killer of a rookie cop named Zoe Martinelli. He works out of Andy's precinct.
Andy checks the empty building for the murder weapon. Unfortunately, she finds the shooter with his gun now drawn on her. The rookie draws her weapon as well. Both Andy and the young kid in the orange t-shirt are frightened. Neither wants to pull the trigger. Andy says, "Please don't make me shoot you. This is my first day." The OD girl Andy saved is this boy's sister. Once Andy tells him that she survived, the kid lowers his gun and Andy's brings him in. Unlike her first arrest, this one's legit. It's also a little bittersweet.
At the local cop bar, Andy offers to buy Sam Swarek a drink. But he's still smarting from the fact that Andy's goof flushed away eight months of undercover work. Sam will be buying his own drinks tonight. That's okay. Andy's fellow rookies are totally stoked to toast her first arrest. Over at the bar, Sam Swarek can't help but look back at Andy. We can't tell if he's still upset or perhaps a little impressed.
Shaw tells Andy that "people can smell new cops like they can smell new paint." It's a line he got from his training officer, a good cop who hit a rough patch. His name is Tommy McNally, and he's Andy's beloved dad who may be drinking himself to death. This now-retired beat cop is very proud of his daughter. Tommy says, "You remember, you're Andy McNally and you're gonna be great."