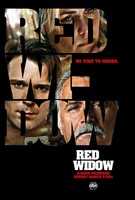 TV Info
---
Episode Premiere
March 31, 2013

Distributor
ABC

Genre
Drama

Show Period
2013 - 2013

Production Company
ABC Studios, Endemol


Cast and Crew
---
Director
Rosemary Rodriguez
Screenwriter
Ryan Farley
Main Cast
Additional Cast
Erin Cahill
Vince Nappo
Natalija Nogulich
Sean Owen Roberts
Synopsis
---
Marta lets her family know that she found Schiller's cocaine. She's not about to tell Irwin where it's at. Marta also mentions her meeting with Alexandra. Andrei sees this as an opportunity to form an alliance to take down Schiller. That's not anything Marta wants to do. She only wants out of the life. That won't be easy now that Schiller is tearing apart her boats to make room for their cargo runs. Marta convinces him to leave the boat with the cocaine hidden underneath alone for the time being.
Natalie hasn't been acting herself lately. She skips school and has been tagging buildings with images of the person who shot her dad. Marta recognizes the place where her daughter left the graffiti. She finds Natalie's cell phone with a cracked screen amongst the debris. Natalie is nowhere to be found. That's because she's been kidnapped. A high-strung man snorting some blow has her bound to a post in a cheap motel room.
Irwin desperately searches for the cocaine at Marta's house. He also sweet talks Felicity so that he can finally have sex with her. Irwin drops her off when he learns that Natalie is missing. It's all hands on deck at Marta's house. Even Mike shows up to help with the search. Marta wants Irwin to head down to the marina to prep for the dry run Schiller wants to do very soon. Gabriel lets his uncle know about the bins he found tied to boat. Irwin realizes it must be the cocaine. He just needs to keep Schiller's man, Vincent, at bay.
Marta's worst fears come true when she gets a text. It's a ransom demand--$500,000 in exchange for Natalie's life. Andrei vows he'll get the money and find her daughter. That's not good enough for Marta. She calls Schiller, who gives her a device to track the money and tracks the phone from where the ransom text was made. At the motel room, the cokehead kidnapper becomes more and more erratic after a masked accomplice shows up. Natalie recognizes the voice of this second abductor. It's her Uncle Mike.
Marta waits at the predetermined location with the ransom money, but the kidnapper is a no-show. Schiller has identified him a lowlife named Kurt Bowman. He sends along a photo. Marta wants her dad to find this man. She has no idea that Mike is the mastermind of the operation. Mike explains to Natalie why he's doing what he's doing. He also lets her know the truth about what her family is and how he believes Schiller killed her dad because he thought he stole from him. He didn't. Mike also recalls how her mom and dad both knew they were meant for each other. Natalie now knows that the Petrov side of her family is part of the mob.
Luther shakes down lowlifes on the streets in an effort to find Kurt Bowman. The guy is MIA, but one punk says there another kidnapper involved. Based on the description, Marta realizes it's Mike. She has Dina place a call to her estranged husband. She doesn't want to believe this is true, but Mike slips up. He claims he was checking out a hospital that had closed down a year ago. Once Marta is sure that it's Mike, she places a call to Schiller to track him down. Marta wants to deal with him herself. Natalie promises Mike that she won't let her grandfather kill him.
The cokehead kidnapper returns while Mike is out of the motel room. He's looking to hurt Natalie. Mike returns in time to wrestle the knife away. He's cutting Natalie loose when Marta, Andrei and Luther burst into the room. Mike thinks he's a dead man. Marta promises her daughter that her uncle will live, but she tells Mike that he is dead to their family. At home, Natalie tells her mom that she knows who her family is. She doesn't want that life. Neither does Marta. She promises she'll get them both out. Schiller shows up at her house to say they've dealt with Kurt Bowman. Marta says that Mike has been dealt with, too.
Out at the Marina, Vincent finds the stash of cocaine. He wants to partner with Irwin in a side business to sell the stuff. Irwin later tells Mike that he needs him to cut the coke. He brings him inside the boat where Andrei and Luther are waiting. Gabriel is there, too. Everyone takes turns brutally beating Mike. For Gabriel, this is his first time being involved in this sort of business-the family business.