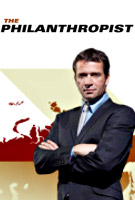 TV Info
---
Episode Premiere
July 01, 2009

Distributor
NBC

Genre
Action

Show Period
2009 - 2009

Production Company
Universal Media Studios, Levinson/Fontana Company


Cast and Crew
---
Director
Tom Fontana
Screenwriter
Ed Fraiman
Main Cast
Synopsis
---
With Teddy facing down police in Myanmar, Philip defends Teddy's philanthropic ventures in the Maidstone-Rist boardroom. But several board members, including DeWitt, don't believe Teddy has changed his playboy ways and move to have him fired. Philip recounts Teddy's struggle with his public divorce following the death of his son and how it has spurred Teddy's philanthropic metamorphosis including the extended trip to Burma (Myanmar).
Flash back to Teddy speaking at a conference, reporters attack him for Maidstone-Rist's involvement with a Chinese company that has been reported to be using forced labor in Myanmar (also known as Burma). Teddy is shocked and disturbed by the revelation and returns to the office to find answers from A.J., Olivia and Philip. Unbeknownst to Olivia and Teddy, Philip knew about the shady deal. However, Teddy agrees with Philip's assessment that avoiding the country would not improve its humanitarian issues and by providing jobs, Maidstone-Rist is helping the struggling nation.
In an effort to be certain they are doing the right thing, Teddy decides to find Daw May Lin Wai, a revered Burmese democratic leader who has been under house arrest in the country for nearly two decades, to ask for advice on what to do. Olivia agrees to go along with whatever Lin Wai recommends.
In Myanmar, Teddy bribes a cab driver to take him as close to Lin Wai's house as possible, but the road is blocked by police. Teddy attempts to reason with the police, to no avail. But as Philip narrates, we see how this incident fuels Teddy's desire to help to people of Myanmar. Meanwhile, Dax and Teddy's cab driver proves to be a less-than-savory character.
Teddy sets up a meeting with Myanmar General Win on the ruling council. Teddy tries to convince him to provide access to Lin Wai, but the general is unwilling to budge. Trying another route, Teddy visits the doctor taking care of Lin Wai. While there, Teddy meets a girl in desperate need of a kidney transplant.
Teddy pays for the girl's transplant out of his own pocket. Still determined to see Lin Wai, he sends Dax to scope out the guard situation. He and Dax decide to create a major diversion in order to sneak into the house. When that doesn't work, Dax picks a fight with the guards so Teddy can sneak in. Back in New York, the board questions Teddy's illegal methods.
Teddy breaks into Lin Wai's house and gets his chance to talk to her. Her sacrifice for Burma is immense; Teddy talks to her about his son, but a guard interrupts them when he comes to check on Lin Wai. When the danger is gone, Teddy asks Lin Wai if she thinks his company should continue to do business with Burma.
Lin Wai explains how her Buddhist beliefs shape her desire for a democratic Burma, but she will not tell Teddy what his company should do. She tells him to find his own morals, and to run, as a guard bursts through the door and chases Teddy to the street.
Running through the streets of Myanmar, Teddy hides under a table during the water festival celebration and luckily loses the guards. He takes a minute to have a water fight with the children. Back at the clinic, Teddy visits with the doctor he met there. She tells him that the little girl's father, who is also the kidney donor, is trapped at a forced labor camp. She also tells him that Dax has been arrested.
Teddy visits General Win again to ask for both Dax's and the kidney donor's release. The general refuses, telling him he can have one or the other but not both; any more than that and people will become suspicious. Back in the boardroom, Philip recounts Teddy's uncanny ability to pick to right person for the right job, though the choices may not be obvious.
Teddy hires the immoral cab driver to help get him into the camp, hoping his lack of values will be useful in the hellish place. He has chosen to help the sick girl. When the guards at the entrance of the camp refuse him entry, Teddy trades the vile cab driver for the sick girl's father. The camp is a horrifying example of modern day slavery.
Teddy attempts to rescue an elderly woman as he and the girl's father leave the camp, but he is hit by the guards. As he leaves, he sees the cab driver buying his freedom. Disturbed by what he ses, Teddy calls Olivia. Unable to hold back the rage in his voice, he tells her to break Maidstone-Rist's contract with the Chinese company doing business in Myanmar.
Back in New York, DeWitt is enraged by Teddy's dissolution of the multi-million-dollar deal and calls for the immediate vote. Philip demands a recess and wants to see DeWitt in his office. Philip calls DeWitt out on his attempt to take over as Maidstone-Rist's CEO. Philip threatens to table the vote and DeWitt's plans for the next six months, unless he allows Philip to finish telling the board about Burma.
Back at a checkpoint in Burma, Teddy and the girl's father are stopped and told the general has been arrested. Teddy sacrifices himself and tells the father to run. Dealing with a different general, Teddy is informed that the father has now been arrested and sent to the same prison as Dax. Teddy tries to bribe the general, but he refuses and forces Teddy to re-invest with the Chang company. Dax is angry that Teddy didn't free him and let him help with the operation. He and Teddy reconcile and get the girl her kidney transplant.
Back in New York, the board starts to vote and Teddy visits Olivia. He tells her about his choice to save one little girl over helping many, by severing the deal. He tells her about the devastation he feels over Myanmar, and that he still misses his little boy.