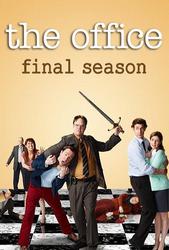 TV Info
---
Episode Premiere
May 03, 2012

Distributor
NBC

Genre
Comedy, Drama

Show Period
2005 - 2013

Production Company
Reveille, Deedle-Dee, NBC Universal


Cast and Crew
---
Director
Daniel Chun
Screenwriter
Warren Lieberstein, Halsted Sullivan
Main Cast
Additional Cast
Synopsis
---
Jim notices Dwight and Gabe in the break room posturing over who is more fit. Dwight displays his biceps, while a scornful Gabe talks about his killer core. Jim senses an opportunity and tells them they must settle their boasting with a leg curl contest. They duke it out while Pam takes pictures - which she and Jim eventually decorate and share with the caption "Sleep Over Party! We Gossiped All Night!"
Andy pops into the office. He's brought a backpack filled with foodstuffs and cooking equipment to make a gourmet lunch for his old officemates. Erin drapes a visitor badge on him, a new mandate from Robert California.
Jim and Dwight are lighting up their sales calls. The Dunder Mifflin Binghamton branch was suddenly closed last night - and they're successfully swooping in on the old clients. As they're celebrating, a very hungover Robert California enters and quickly vomits on the floor. He explains that his divorce was finalized last night and he decided to celebrate with a case of wine. In his drunken stupor, he apparently closed the Binghamton branch and drunk dialed Nellie soon thereafter. He really doesn't remember.
Robert grows concerned about what he did the night before. He asks Pam to find out what sort of message he left for Nellie. Pam obliges and tries to engage Nellie in some girl talk. But they're quickly interrupted by Angela (Robert conscripted her to find out also) and soon after that, Gabe. The squawk fest in the break room seems to cover anything but Nellie's love life.
Meanwhile, an angry employee from the Syracuse branch barges in, Harry Jannerone. He's miffed that Dwight and Jim - and a fictional salesman they created to thwart the firm's commission cap rule named Lloyd Gross - are stealing New York clients he considers properly his. Dwight and Jim push back: there's no rule about out-of-state clients. Jannerone is miffed. He wants to meet Lloyd Gross. Dwight and Jim point to Toby, who's happy to play the imaginary but tough salesman. Toby immediately begins intimidating Jannerone. It gets ugly, but Jim suggests that they simply consult Robert about who has dibs on the closed branch's customers.
Harry finds Robert talking to Andy in the break room. Jannerone wants to know who should have a crack at Prestige Direct Mail Solutions, one of Binghamton's biggest accounts. Dwight bursts in pleading the case that it should be him and Jim. Robert backpedals. He knows he's too hungover to make a sound decision, so he tells them to wait until he can make an equitable choice. The salesmen sit outside Robert's office and wait. Andy, overhearing the whole conversation, realizes that Prestige is now without a paper supplier. He bolts to get in front of the client while the opportunity is still hot. When they realize that Harry has also sneaked out of the office to swoop in on Prestige, Dwight and Jim hop in Jim's car. It's a race. But it's Andy who arrives first and sweet talks his way in to see the CEO. He promises him a 25 percent discount off of whatever deal Prestige was getting before - and he promises to be there for him day or night. In a show of commitment, he hands the CEO his house key, explaining that if he ever needs a place to crash, he's there for him.
Unaware, Dwight and Jim continue to race Harry to pitch Prestige. They try thwarting the Syracuse salesman at every turn, but the three of them are neck and neck all the way to CEO's office - where they encounter a grinning Andy Bernard. The deal is done.
Pam visits Robert in his office with good news: she's purloined Nellie's cell phone. Robert is delighted and shocked. He begins playing back Nellie's various messages: her mom trying to cheer her up, her credit card company informing her she's overdue and an adoption agency turning her down. Pam grows very uncomfortable with the invasion of privacy and grabs the phone from Robert. The two struggle over it until Pam accidentally deletes all the
messages.Pam returns the cell phone to Nellie, but doesn't tell her she's been listening to her messages. Nellie opens up a bit to her - and discloses that Robert is a "beast" who's seemingly obsessed with sex. Pam resists the temptation to probe further. Later in interview, we see a happy Nellie beam about her possible new friend (Pam), her chances for motherhood and her robust finances.
Robert takes a call from Andy. Andy tells Robert that he's just landed his biggest client and that if he'll hire him back, he can have the client; otherwise he's going to the highest bidder. Robert scoffs at being blackmailed and tells Andy that he'll be happy to take him on in a street fight. Next, we see Andy drop in on former DMI CFO David Wallace. Andy pitches to David that he buy Dunder Mifflin - it's obviously an undervalued asset. David invites him inside to talk.