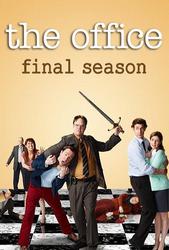 TV Info
---
Episode Premiere
April 21, 2011

Distributor
NBC

Genre
Comedy, Drama

Show Period
2005 - 2013

Production Company
Reveille, Deedle-Dee, NBC Universal


Cast and Crew
---
Director
Mindy Kaling
Screenwriter
Mindy Kaling
Main Cast
Additional Cast
Synopsis
---
Early in the morning, Michael and Deangelo carry on a sacred tradition: informing co-workers of their Dundie Award nominations at their homes. A groggy Jim sloughs them off; Stanley threatens to call the police; Meredith is just arriving home and offers to cook them breakfast. Michael can't resist the temptation to egg Toby's house while they're out and about.
Michael arrives at the office excited about this year's annual awards. Gathering the team, he explains it's a black tie optional affair - like the Golden Globes but less mean. He's also thrilled to announce that his co-host this year will be Deangelo. But Deangelo demurs: the thought of hosting an event terrifies him. Michael promises they'll work through it. As they practice their banter in front of the staff it's clear Deangelo is out of his element. Michael's concerned: it's his last Dundies and he refuses to let Deangelo's shortcomings spoil it. He attempts to work through Deangelo's performance phobias to no avail.
In the parking lot, Pam and Jim notice a distraught Erin eating lunch alone in her car. Erin explains that she simply needs to get away from Gabe. Pam counsels Erin that she should break up with him, but Erin simply can't.
The big night has arrived and Dwight, dressed in formal wear, greets the crowd derisively as they trickle in. The festivities begin with a comic video featuring Deangelo and a series of impersonations by Michael; he spoofs on Angela, Jim, and Phyllis. The video complete, Dwight announces the real Michael Scott, who's greeted with warm applause. A nervous Deangelo emerges next but then sprints away to the bathroom. Michael comforts him and tells him he's got to get out there - for the children. The stage is set for a memorable evening.
The awards are underway, with Jim receiving the first Dundie for "Best Dad Ever." But for reasons unknown, the award for "Best Mom Ever," goes to Meredith, and Pam is clearly let down. While accepting her award, Meredith aggressively kisses Michael and announces that she's "not going to be a good mom tonight."
For the first time, Ryan doesn't win "Hottest in the Office" and plays it cool, though he's clearly a little off-put by it. Stanley gets the "Diabetes Award," which upsets Phyllis. She has diabetes too, but you don't see her making a big deal about it.
Dwight gets the "Promising Assistant Manager Award." Dwight strangely dedicates his award to something we take for granted in our daily lives: the trashcan. He walks off stage and violently throws his award in the trash, clearly upset by Michael's favoritism toward Deangelo.
Erin is overly excited to receive the "Cutest Redhead in the Office" award, announcing that it's the first award she's ever won in her entire life. During her acceptance speech, Erin breaks up with Gabe in front of the entire office, saying that she's not attracted to him and that she cringes when he talks. Gabe is crushed.
Finally, the award for "Best Dundies Host" goes to Deangelo. Deangelo puts on his walkman to calm his nerves and speaks so loudly over the music during his acceptance speech that the restaurant manager cuts them off; the Dundies are over. Pam suggests that the gang grab some ice cream, go back to the office, and finish what they started. Driving back with Michael, Dwight unloads on Michael about how angry he is that he picked Deangelo as a co-host. When Michael pulls over the car to hash out their issues, Dwight gets out and sprints away.
At the office, the Dundies are back on. Admitting to having tried pot in college, an excited Andy receives the "Doobie Doobie Pothead Stoner of the Year Award." When Andy goes up to accept the award, he announces that he and the whole office would really like to thank Michael for everything he's done. A piano starts playing and the office staff breaks into their own rendition of Rent's "Seasons of Love," singing 9,986,000 minutes, in honor of how long Michael has worked at Dunder Mifflin.