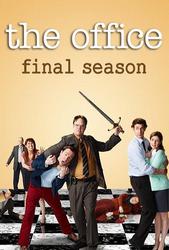 TV Info
---
Episode Premiere
December 02, 2010

Distributor
NBC

Genre
Comedy, Drama

Show Period
2005 - 2013

Production Company
Reveille, Deedle-Dee, NBC Universal


Cast and Crew
---
Director
Charles McDougall
Screenwriter
Halsted Sullivan, Warren Lieberstein
Main Cast
Synopsis
---
Since Dwight has taken over the building, he's all about saving money. This means installing an overpriced coffee shop in the lobby, keeping the heater turned off, and installing motion detector lights that automatically turn off at a certain time.
Michael comes back from the dentist with the theory that China is taking over the world. He orders the office to think of big ideas to trump anything that China has come up with. Dwight thinks America should just drop a bomb on China and end it all. Meanwhile, Oscar steps in and tries to correct Michael on his facts.
Pam is sick and tired of Dwight and his terrible way of running the building. The final blow is when he allows an exterminator company to hang an advertising banner on their building. Pam shops around Scranton for a new office building for Dunder Mifflin to rent and finds the perfect one.
Oscar still feels defeated after Michael's fact about China was right and his was wrong. The others continue to tease Oscar for being outsmarted by Michael. As a peace offering, Oscar invites Michael for coffee, but Andy and Jim warn Michael that Oscar will be setting him up in order to outsmart him on a proposed subject.
Andy, Ryan, and Jim give Michael a crash course in topics like science, geography and history, to prepare him for his coffee with Oscar. Michael feels he's ready to take on Oscar in a battle of smarts, but Ryan makes Michael a cheat sheet just in case.
Michael and Oscar have their coffee date down at the lobby café. Oscar continues to grill Michael about current events and China, as the rest of the office looks on. Things take a turn for the worse when Michael begins to botch up his facts and his cheat sheet gets scattered on the floor.
Dwight discovers that the building Pam wants Dunder Mifflin to move into doesn't really exist; it's just an empty lot. When Dwight calls Pam out, she confides in Jim. Once again, she tried to take charge of something and failed. Pam finds the right information to prove to Dwight that he's creating an unsafe work environment and orders immediate change. Dwight is impressed and agrees to change his ways.
Michael takes a stand against Oscar and delivers a speech. How can they argue over who's smarter, when China is out to take over the world?! Oscar's confused. What Michael's saying has nothing to do what they were talking about to begin with. It doesn't matter; Michael still receives a round of applause from his co-workers for taking a stand.