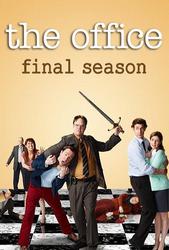 TV Info
---
Episode Premiere
October 07, 2010

Distributor
NBC

Genre
Comedy, Drama

Show Period
2005 - 2013

Production Company
Reveille, Deedle-Dee, NBC Universal


Cast and Crew
---
Director
Paul Lieberstein
Screenwriter
Charlie Grandy
Main Cast
Synopsis
---
Andy brings the entire cast of his local production of "Sweeney Todd" into the office to perform. Andy hopes this performance will take off as viral marketing. Michael finds the entire performance amazing, but wants to know what his part is.
Andy is happy to hear Gabe can't go to the play and Erin will be watching him solo. Andy pleads with Pam and Jim to come, and they tell him they'll try to find a babysitter. Later on at the play, Andy is disappointed to learn that Pam and Jim have found a babysitter - Erin.
Everybody else from the office shows up to support Andy. But, one by one, each of them gets restless and they start checking their watches. During intermission, Michael has a run-in with the director who promises him the perfect role in the future.
During the second act, Michael smuggles in a bottle of wine and shares it with Darryl, Meredith and Kevin. Meanwhile, Jim and Pam are just shocked with what they are witnessing. Before Andy goes back on stage, he checks his messages and is disappointed to see he doesn't have any.
When Andy gets back on stage, his phone rings and he tries to play it off as part of the performance. After that mishap, Michael accidentally drops his wine bottle and the entire audience goes silent as they listen to it roll down the floor towards the stage. Also, Michael's gift balloons have hit the roof and have begun to pop, startling the audience.
After the balloons pop, the audience can hear a baby crying. It's Erin in the back row with Cece. Andy smiles big when he spots her. Jim and Pam take Cece and head back home and Erin stays for the end of the play. Meanwhile, in the parking lot, Angela is working on seducing Dwight to try to win him back.
Angela's plan works and Dwight tries to have sex with her in the car. Angela realizes she doesn't just want to have sex with Dwight because he has the baby contract. She stops him, punches a hole in his punch card and tells him good night.
Andy is getting closer to Erin until Gabe calls and she cuts the evening short to meet up with him. The rest of the office meet up with Andy to tell him how great he did in the play. Michael thinks he was exactly awesome. Andy says the compliments make him feel better. They all end the night singing Macy Gray's "I Try."