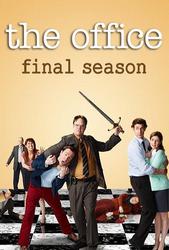 TV Info
---
Episode Premiere
April 29, 2010

Distributor
NBC

Genre
Comedy, Drama

Show Period
2005 - 2013

Production Company
Reveille, Deedle-Dee, NBC Universal


Cast and Crew
---
Director
Mindy Kaling
Screenwriter
Justin Spitzer
Main Cast
Additional Cast
Synopsis
---
Pam and Jim prepare themselves for their first sales pitch together. Michael pairs them up on the pitch because they play cute and fun. Meanwhile, Jim's already quietly annoyed with all of Pam's proposed jokes.
Michael greets Donna as she walks into the office. He introduces her to Pam and Jim, "The Wonder Kids." Donna tells the couple they look related and she's usually right about these things. Michael's happy that Donna came by to check out printers and sends Jim and Pam off to pitch to her.
Dwight walks in on Gabe, who's pitching Sabre's Executive Minority Training Program to Darryl. Dwight has a million reasons why he should also qualify for the program, but Gabe turns him down. In return, Dwight plans his revenge, deciding to mold Kelly for the program.
Michael hijacks Jim and Pam's meeting with Donna to flirt. Pam and Jim leave Michael to close the sale with Donna, but he tries to kiss her instead. Donna backs away and Michael looks around embarrassed that the office witnessed his move. He tries to defend his actions to Pam and Jim. Pam takes Michael's side, agreeing that flirting is fine.
Michael and Donna continue to talk in his office. Once again he tries to make a move, causing her to back away. He tells the rest of his employees he can't control himself around Donna. The rest of the employees tell him to stop trying with Donna, but Pam admits Michael might still have a chance. Michael's ready to try once again.
Dwight's plan backfires when Kelly turns to Ryan for advice on how to be an executive. Kelly tells Dwight that if she gets selected for the program, she and Ryan are teaming up and firing all the employees who wronged them at Dunder Mifflin. Dwight knows he would be on that list and tries to convince Gabe to deny Kelly's application.
Michael closes the deal with Donna but doesn't get to seal it with a kiss. Pam tells him that if it makes him feel any better, she really thought Donna was into him, too. Erin finds a barrette that Donna dropped while in the office. Michael plans on returning it to Donna - it must be a sign that she's interested in him, despite what everybody says.
Gabe announces that Kelly has been chosen for the Minority Executive Training Program. Dwight takes it upon himself to call a truce with Kelly for all the bad things he's done to her. She gives him a hug and tells him she'll remember everything Dwight has ever done to herĂ¢â'¬Â¦ everything.
Michael sees Donna sitting in her car in the parking lot. He gives her the barrette and tells her he knew he never had a chance with her. Donna tells Michael he was right the first time - he did have a chance - and pulls him in for a passionate kiss. Michael heads back to the office to announce that the kiss really happened!