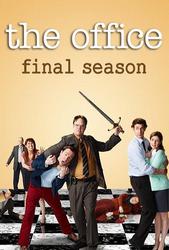 TV Info
---
Episode Premiere
October 29, 2009

Distributor
NBC

Genre
Comedy, Drama

Show Period
2005 - 2013

Production Company
Reveille, Deedle-Dee, NBC Universal


Cast and Crew
---
Director
Reggie Hudlin
Screenwriter
Warren Lieberstein, Halsted Sullivan
Main Cast
Synopsis
---
It's Halloween time at Dunder Mifflin and Michael hosts a haunted warehouse for Darryl to take the kids of Scranton to. Only Darryl has a hard time keeping track of who is dressed as what. In the end, Michael scares all the kids by pretending to hang himself.
Jim is having a hard time with Michael and his micro-co-managing skills. Michael on the other hand, has a hard time accepting that Jim is now his equal, and gets to attend executive meetings.
Pam and Andy have to make cold calls since they are the two lowest salespeople in the branch. The secretary at their first stop confuses Pam and Andy as a couple, after noticing Pam's baby bump. Pam makes sure the woman knows, definitely knows, that she and Andy are in no way an item. They are just co-workers.
When Jim and Michael return from their meeting, Michael is soaking wet and doesn't want to talk about it. Later, the staff hear that Michael fell into a koi pond and they want Jim to confirm the story. Jim covers for Michael's accident, but Michael angrily confesses he fell into the pond.
Another potential client confuses Pam and Andy for a couple. This time it's Andy to clarify he only dates models and Pam does not fall in that category. But he adds that Pam is carrying Andy and his model's surrogate baby. Afterwards, Pam lashes out at Andy and blames him for not closing their sale.
Michael realizes he's the butt of everybody's jokes when he's usually the face of everybody's joke. He calls for sensitivity training and has the staff join him in the conference room. The meeting turns sour when everyone accuses Michael of making them the butt of his jokes on a daily basis.
Part of Michael's training is to make a list of items that his staff declare off-limits for making jokes about. Michael writes down "koi pond" and then Dwight adds his "small nose" to his list. Meredith is very embarrassed to say her off-limit joke out loud, so she writes it down. The others are speechless when she writes, "sex with a terrorist."
Andy and Pam learn from their mistakes and start claiming to be expecting parents to their potential clients. Pam begins feeling awkward when Andy takes it up a notch and starts putting his ears to Pam's stomach and calling the baby a little "soy bean." Andy later admits to Pam that he secretly wishes he was really expecting a baby. Pam sympathizes with Andy and works on getting him a date with Erin.
Jim offers Michael some advice on how to deal with his incident. He tells Michael that if Michael makes himself a joke, the others will lay off a bit. Michael does just that, but takes it up a notch when he reveals other embarrassing stories about himself. When Michael realizes he went too far, he blames Jim for the advice.
Meredith gets ahold of the surveillance footage of Michael's accident and the others gather around to watch it. Once they watch it, everybody notices that Jim had the opportunity to keep Michael from falling in and didn't take it. Jim apologizes for not grabbing Michael from the pond. Now Jim is the butt of everybody's joke.