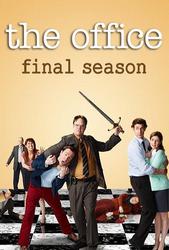 TV Info
---
Episode Premiere
April 09, 2009

Distributor
NBC

Genre
Comedy, Drama

Show Period
2005 - 2013

Production Company
Reveille, Deedle-Dee, NBC Universal


Cast and Crew
---
Director
Paul Feig
Screenwriter
B.J. Novak
Main Cast
Additional Cast
Synopsis
---
It's officially day one of Michael Scott Paper Company being open for business. The company's headquarters so far are located at Michael's condo, where Pam shows up for work. She finds Michael in a bathrobe making a giant batch of french toast to start the morning off right.
Since Michael's departure, Charles has temporarily taken over the Scranton branch. While Jim is still having trouble impressing his new boss, Andy finds a way to become his best friend. The two bond over their love for soccer, even though Andy secretly admits he only pretends to enjoy the sport because Charles does.
Michael begins to panic at the thought of running his own company, but Pam calms him down. She makes out a list for him to check off as the day goes on. She retrieves the mail for Michael and they get their first piece of mail addressed to the company. Although the news isn't good. Michael's condo has banned him from operating a business from inside his home. Pam adds: "find an office" to their to-do list.
All of Scranton's employees follow Andy's lead and pretend to love the sport of soccer. Jim refuses to play the kiss-up game, until Charles asks if he follows the sport. Jim comes up with a last-minute lie that he doesn't watch soccer; he actually plays soccer. Dwight gets in on the fun and says Charles and Jim should play a soccer game after work. Charles thinks that's a great idea.
Michael is slowly assembling his team for the new company. He's got Pam and now Vikram, a salesman he met during his brief stint as a telemarketer. Michael then stops at the Scranton bowling alley, where Ryan is now working at the shoe stand. Michael offers Ryan a job, despite Pam's objections. Michael thinks everybody deserves a second-second chance.
After winning back Ryan, Michael takes his employees to the local retirement home. He finds his nana and pitches her and her friends an investment opportunity. Michael's caught off guard by all the tough questions his nana asks and she starts expressing her doubts. She turns down the investment pitch.
The soccer game is happening with Jim and Charles in the parking lot. The employees all gather around to play and Phyllis serves as goalie. Charles goes in for a goal and instead of blocking the ball, Jim ducks, causing the ball to hit Phyllis square in the mouth. Jim now feels even worse about not really knowing how to play the game.
After Michael's sour investment pitch, Vikram quits the company. Michael is fine. He has Pam and "Ry-Guy" working with him. Pam begins to have her doubts about Michael's leadership. She wishes she'd never left Dunder Mifflin. Michael gives her a pep talk and tells her he is not a quitter and he knows she's not, either.
Pam is feeling better after Michael's speech and he delivers more good news that he found a headquarters for Michael Scott Paper Company. He's renting storage space from the same building that he and Pam used to work in at Dunder Mifflin. Pam looks around and agrees that she can work there.