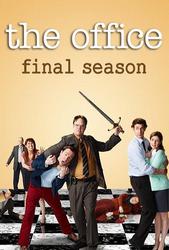 TV Info
---
Episode Premiere
March 05, 2009

Distributor
NBC

Genre
Comedy, Drama

Show Period
2005 - 2013

Production Company
Reveille, Deedle-Dee, NBC Universal


Cast and Crew
---
Director
Randall Einhorn
Screenwriter
Brent Forrester
Main Cast
Additional Cast
Synopsis
---
Jim and Pam were looking forward to spending their first Valentine's Day together being engaged. Michael points out that the office is sick of their romance and decides to throw a singles-only lonely hearts party, sans any couples.
The Valentine's Day blood drive is taking volunteers in the parking lot. Michael and Dwight each volunteer to donate. Michael strikes up a conversation with a woman who is also giving blood. When Michael finishes giving blood, he passes out. When awakes, the mystery lady is gone, but has left behind a glove.
Michael goes back to the lonely-hearts party and encourages all the singles to sit in a circle and share bad relationship stories. Dwight is surprised to hear Angela talk about her experience of two men fighting over her years ago, when she lived in Ohio. Michael asks about Andy's whereabouts and Oscar fills him in that he had several honeymoon destinations that were non-refundable, so he is out enjoying them one by one.
Michael finds the party too depressing and decides to hold a single's mixer. Instead, he is secretly hoping his blood drive mystery woman will make an appearance. Two ladies show up and Michael sets them up with Kevin and Dwight. Kevin later hits it off with the woman he was talking to, but Dwight frightens her friend away.
Michael continues his matchmaker ways by trying to set Meredith up. After an awkward exchange, Michael walks away. Michael is feeling satisfied that his party is going well. But, he still is anxiously waiting for his mystery woman to arrive.
Dwight notices Michael pacing around and wants to know what is going on. Michael tells his employees the story of his mystery woman and Kelly finds the entire situation romantic and like a fairytale.
Since all the couples were banished from Michael's party, Jim and Pam double date with Phyllis and Bob. They exchange funny stories with one another and then Phyllis and Bob excuse themselves to the restroom. After over ten-minutes of waiting, Jim and Pam begin to believe the twosome snuck out of their double date.
After some clever snooping, Jim and Pam find out that Bob and Phyllis snuck off into the bathroom for a quick romp. When they return to the table, Jim and Pam find it difficult to act like they didn't know what was going on.
Michael's party comes to an end and he has to face the reality that his mystery woman isn't showing up. Michael is happy to find out that everybody had a great time. He also realizes there are a lot of princesses out there with different shaped feet and hands, and he'll find his some day.