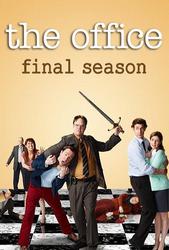 TV Info
---
Episode Premiere
January 22, 2009

Distributor
NBC

Genre
Comedy, Drama

Show Period
2005 - 2013

Production Company
Reveille, Deedle-Dee, NBC Universal


Cast and Crew
---
Director
Asaad Kelada
Screenwriter
B.J. Novak
Main Cast
Additional Cast
Synopsis
---
The office gathers around to have a dispute about whether Hillary Swank is hot or not. So they can get back to work, Jim decides to end all the arguing by conducting a poll. The poll ends up a tie.
David Wallace sends Michael out on a mission to spy on another small company, Prince Family Paper, because he wants to tap into their market. Michael takes Dwight along with him on the trip. Michael will pretend to be a client in order to get information on sales and product and Dwight will pretend to be a guy looking for a job in order to get information on salaries and numbers.
Michael has a nice rapport with the owner of the family-run business. Dwight stomps in demanding they hire him, but the owner says he wants to keep it in the family. The owner's son offers to hear Dwight out and interview him.
Angela decides not to participate in the debate on whether Hillary Swank is hot or not. But, she cannot stay quiet for long. After Kevin continues to put Hillary down, she sides with those who think Hillary is hot, calling her a "female Boris Becker."
Before Michael leaves Prince Family Paper, the owner gives him a list of all their biggest clients, so Michael can call around for references before committing to them as his paper supplier. He and Dwight split, considering the mission accomplished.
Before Michael and Dwight can make their big getaway, Michael runs over and then backs over the parking beam, destroying his front fender. The family comes out to check on Michael, then they put his fender together using tape, saving him from having to call a tow truck. As they leave, Dwight tells Michael they should be called the "Sucker Family."
Michael and Dwight return from their trip to Prince Family Paper and Michael begins feeling guilty about having their client list. Especially with how friendly the family was to him during his time of need. Dwight tries to convince him that Michael needs to start acting like a businessman and stop letting his feelings get in the way.
Michael has a change of heart and takes the client list and runs from Dwight. Dwight chases Michael down and attacks him the parking lot, taking the list. Michael admits to Dwight he's not a shark in business and says he really cares about the Prince family. Dwight keeps the list.
Andy is ready to take a final poll on how many people in the office think Hillary Swank is hot. Half the room that think she's hot raise their hands; unfortunately, the same number who don't think she's hot raise their hands afterwards... making the debate another tie. That is, until Michael tips the scale by voting that Hillary Swank is hot.
David Wallace is impressed with Michael's work at Prince Family Paper. David calls Michael a "Titan of Industry," but Michael still feels like it's a bittersweet moment. He calls it bitter because he might have destroyed a small family, but sweet because he helped out David Wallace.