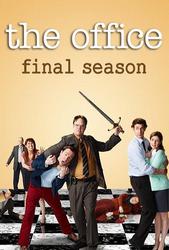 TV Info
---
Episode Premiere
September 25, 2008

Distributor
NBC

Genre
Comedy, Drama

Show Period
2005 - 2013

Production Company
Reveille, Deedle-Dee, NBC Universal


Cast and Crew
---
Director
Greg Daniels
Screenwriter
Gene Stupnitsky, Lee Eisenberg
Main Cast
Additional Cast
Rich Sommer
Rich Sommer
Jim Petersmith
Sandra Tsing Loh
Synopsis
---
It's week one in the corporate-sponsored weight-loss challenge. Whichever branch loses the most weight gets three extra vacation days. Michael is determined to win, so before the first weigh in, he and Dwight tempt the employees with junk food. Afterwards, Darryl weighs them all in on the warehouse scale.
It's week two in the weight-loss challenge and the staff have lost 31 pounds. Jim is helping Pam pack up her things at work and sending her off to New York City for three months to study at the Pratt Institute. She'll be a little fish in the Big Apple.
Andy is trying to nail down a spot for his and Angela's wedding. He comes up with a place in Rhode Island and then thinks about Maine, but Angela could really care less. She and Dwight are still secretly meeting in a hidden place in the warehouse and engaging in their affair.
Angela catches Kevin making another mistake at work and chastises him in front of everybody. Holly intervenes and tells Angela that Kevin is not an idiot. She says he is mentally challenged, which shocks Kevin. Holly says Dwight told her that Kevin had a disability. Angela smiles at Holly's embarrassment.
The next week of the challenge isn't as rewarding as the previous week. Instead of losing weight, the staff as a whole gained five pounds. Shortly after Darryl informs them of this, Kelly passes out due to her liquid fast.
Jim heads to New York to visit Pam. Before he leaves, Michael tosses him a condom for protection. When Jim arrives, he is ready for alone time with Pam, but instead he ends up in the recreational room of the dorm, waiting for Pam to finish up her RA responsibilities.
It's the fifth week of the weight-loss competition and the employees are getting desperate to lose weight. The good news is the other branches are losing their battle, too, so the competition has been extended for five more days.
Ryan Howard walks into the office and everybody is shocked to see him. Michael announces that Ryan is the new temporary receptionist while Pam is out. Ryan takes the time to apologize to the people he's wronged, but is secretly keeping a list of those who wronged him. That way, when he gets back on top, he can have his revenge.
The next weigh in reveals the staff haven't lost or gained any weight - they've stayed the same. Afterwards, Michael feels uncomfortable hearing Holly gush to Oscar about her date the night before. What he doesn't know is that Holly began dating after she heard about Michael's closeness with Jan, who is pregnant.
Phyllis walks into the office looking disheveled and mad. Dwight's promise to take her out on a sales call proved to be bogus. Instead, he drove to a bad part of town and pushed her out of the car. This was Dwight's way of getting Phyllis to burn more calories so they could win the competition.
It's the seventh week of the weight-loss competition and Darryl announces the team lost seven pounds. Michael doesn't care because he's busy being jealous of Holly's love life. Meanwhile, Jim is seriously missing Pam and the two agree to meet up halfway to see each other. Pam emails her latest art project to Jim; it's a sketch of Dwight.
Holly delivers the bad news to Michael that the Scranton branch lost to Utica by eight pounds. Michael reminds her they have until the end of the day to lose eight pounds. Andy turns up the thermostat for a good old-fashioned sweat out.
Pam meets Jim at their halfway destination in front of a gas station. As soon as she walks up, he kneels down on one knee and proposes marriage. She accepts and seals it with a kiss.
At the end of the day, the Scranton branch does not lose the remaining eight pounds they needed to win the competition. Michael tells them that everything is fine and that they are still gigantic losers in his eyes. Stanley doesn't mind; he still lost a total of seven pounds so he's going to take the extra vacation days, anyway.
While his replacement is making points at the Scranton branch, Toby lies in a hospital bed in Costa Rica due to an accident while ziplining through the rain forest. He's been holed up in the hospital bed with a broken neck for five weeks now, and no visitors.