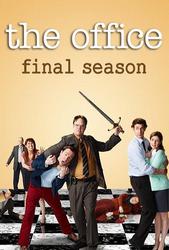 TV Info
---
Episode Premiere
November 01, 2007

Distributor
NBC

Genre
Comedy, Drama

Show Period
2005 - 2013

Production Company
Reveille, Deedle-Dee, NBC Universal


Cast and Crew
---
Director
Joss Whedon
Screenwriter
Mindy Kaling
Main Cast
Additional Cast
Synopsis
---
Karen was now the regional manager of the Utica branch and used her position of power to woo Stanley to her branch. For the right price, Stanley agreed to make the transfer. In Scranton the news was welcomed with applause, much to Michael's dismay.
Oscar, Pam, and Toby formed the Finer Things Club that met in the kitchen at work. They shared in books, cuisine and civilized conversation at every meeting. The rules were no paper, no plastic and no work talk allowed.
Michael and Dwight convinced Jim to go with them for a sales call. Once in the car and trapped, Jim found out the truth. The trip was really a "panty raid" to Karen's branch to make her wish Jim had never dumped her.
Jim agreed to go along with the master plan only if Dwight agreed he wouldn't bomb the Utica branch. Chaos broke out when Michael and Jim caught Dwight peeing in a can in the backseat. Once they arrived to Utica, Michael and Dwight went inside armed with silly string and stink bombs.
Jim, Dwight and Michael disguised themselves as warehouse employees once they arrived at the branch. Jim communicated using walkie-talkies with Dwight and Michael as they headed in. Just as Michael and Dwight faced trouble when they pushed a copy machine down the stairs, Jim spotted Karen in the parking lot.
Karen caught Jim hiding and then called all three of the guys into her office. Michael vowed that if Karen hurt a hair on Stanley's head, they would burn Utica to the ground. Karen talked to Jim alone, thinking he was looking for an excuse to see her. She blew up when she found out that Jim and Pam were still together and happy.
When Michael, Jim, and Dwight returned back to Scranton feeling defeated, Stanley announced that he wasn't leaving. He was only bluffing in order to get a bigger raise. For a second, Stanley thought Michael was some sort of genius for seeing through the bluff. He followed that statement with laughter.
Pam finally allowed Jim into the very exclusive Finer Things Club, a decision that ticked Andy off because he could be part of the Party Planning Committee and Kevin's band but was denied access to a club so exclusive. Pam later realized Jim wasn't civilized enough for the Finer Things Club.