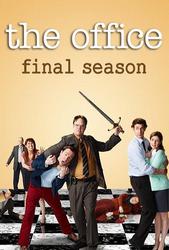 TV Info
---
Episode Premiere
January 26, 2006

Distributor
NBC

Genre
Comedy, Drama

Show Period
2005 - 2013

Production Company
Reveille, Deedle-Dee, NBC Universal


Cast and Crew
---
Director
Victor Nelli Jr.
Screenwriter
Paul Lieberstein
Main Cast
Additional Cast
Synopsis
---
Jim keeps looking over at Pam's desk but Ryan is there instead because she's gone on vacation. Ryan is creeped out a little by it but it's nothing compared how Michael looks at him — which is far and away creepier.
Michael gets to work and heads into his office where there is something on the floor that gives off the foulest stench anyone's ever smelled. Michael has the cleaning people come in and take care of the problem, but they simply rub it into the fibers of the carpet. The smell lingers.
Jim welcomes Pam back and wants to know all about the vacation. She's awkward and a bit off-putting instead of her usual self. Also, Pam and Roy seem much closer now after their vacation and Jim looks mildly jealous.
Michael says he wants to be desk buddies with Jim while they change out his office. Jim wants Michael to take the workstation in the back but Jim has to move there instead.
Toby moved away from Kelly because he claimed he was allergic to the desk. But Jim quickly finds out that he moved because Kelly won't shut up. She wants Jim to talk to Ryan to find out if he likes her.
Michael says when he was in training he used to work side by side with Todd Packer. They once spent the whole day with their pants off. Michael reminisces about the good old days pranking the office with Packer. He decides to relive those old days so he destroys the files in Accounting, knocking Oscar and Kevin's papers all over the place.
To spice up the office, Michael decides to wage a contest: He'll give $83 to anyone in sales who makes the most money by the end of the day. Not only that, he will be competing as well because Jim is out of sight.
The rest of the office tries to figure out who soiled Michael's office. Michael feels disrespected. He says he's the victim of a hate crime. Michael wants the guilty party to come forward and take their punishment. No one does, so he says everyone is being punished. They're all in time out.
Jim talks to Ryan about Kelly. He says she's cool AND interested in her. He wants Jim to find out though if she wants a long-term thing or just to hang out. Kelly wants long-term, to fall in love, have babies, and spend every second together. But she says she's up for anything. Jim is miserable.
Michael says that last week he would have given anyone in the office a kidney, but no longer. He finally gets a call from Todd Packer who admits to leaving the foulness on his floor as a prank. Michael is completely okay with it because it was Packer. His faith in his employees is restored and he can go back to business as usual.
Jim goes back to his desk and finds a bunch of voice mails. All of them are from Pam, wishing he were at his desk to commiserate with. Jim leaves work with a smile on his face.