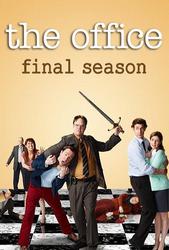 TV Info
---
Episode Premiere
November 15, 2005

Distributor
NBC

Genre
Comedy, Drama

Show Period
2005 - 2013

Production Company
Reveille, Deedle-Dee, NBC Universal


Cast and Crew
---
Director
Paul Feig
Screenwriter
Larry Wilmore
Main Cast
Additional Cast
Synopsis
---
Michael calls Pam into his office for her annual performance review. He wants her to listen to a voice mail from Jan and for her to give her impressions. Pam says that Jan's conflicted because she's fighting feelings for him. She only says that because she wants him to be in a good mood before he gives her the review.
Jan is coming to the office, and it's the first time she and Michael have seen each other since their tryst after Chili's. She didn't want things to continue and Michael claims he feels the same way.
Dwight tries to stay focused for his review. Jim realizes that Dwight thinks it's Friday (it's actually Thursday). Jim plans on milking this knowledge for the rest of the day.
At Stanley's review, he tells Michael to listen to the pauses in Jan's message because sometimes women signal that way. Like Pam, he's only saying all this for his own benefit - he wants a good bonus.
Jan returns Michael's phone call and says she only wants to talk about his performance review. She wants him to forget about anything that happened between them. She also wants to hear Michael's ideas on how to improve his department. Since Michael has no ideas, he creates a weekly suggestion box meeting.
Jan arrives and they step into Michael's office. He tries kissing her hand but she pulls away immediately. Michael is still trying to impress her when Pam interrupts and says everyone is in the conference room for the suggestion box meeting. Jan wants to sit in.
Michael pulls some suggestions out and reads them. One of the suggestions is that Michael should take care of his B.O. Another suggestion is that Michael needs to do something about his coffee breath. Another one says don't sleep with your boss. Dwight wants to know if it's referring to him boning Jan.
Jan immediately takes Michael back into his office. But Dwight interrupts and wants his review. He brings in charts to show why he deserves a raise. Jan leaves, and Dwight continues his speech about why he should be compensated.
Jan finally tells Michael that it has nothing to do with his looks; it's his personality. He's obnoxious and rude, he has coffee breath, and he's inconsiderate and stupid. But she says he's a decent man. That's all Michael needs to hear.
The next day, Dwight doesn't show because Jim convinced him it was Saturday instead of Friday.